SHOW PREVIEW
For new products, the latest technology and access to the best minds in the industry, CONEXPO-CON/AGG is the place to be this March. The show, held March 22 through 26 in Las Vegas, will host more than 2,000 exhibitors, include a comprehensive education program and launch new events, such as the International Mixer Drive Championship, the Green Roads Summit and a Crane and Rigging Conference. Co-located with IFPE and the ICON Expo, this year's show will also host the Association of Equipment Management Professionals' annual conference.

To maximize your experience, show sponsors are offering a "Follow Me" Smartphone app. The app enables you to organize and schedule your trade show information, download marketing materials to your phone, navigate interactive trade show floor maps and use coupons for discounts and free offers. The app is available for iPhones in iTunes or the App Store, for Android phones in the Android App Market and for all other Smartphones at http://http://www.conexpoconagg.com/m.
TT TECHNOLOGIES, BOOTH S-534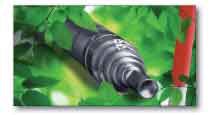 Trenchless ramming, extracting, and boring equipment
Grundoram 16-model pipe ramming tools from TT Technologies offer 4- to 122-inch-diameter trenchless casing installations, with an option of 147-inch-or-greater-diameter installs. The Grundoburst static Pipebursting system uses a bladed cutter head for replacing ductile iron and steel pipe. Grundocrack pneumatic pipebursting tools are available in 5- to 32-inch diameters. Pneumatic Grundocrack systems replace pipes from 4 to 54 inches in diameter. The Grundomat horizontal boring tool is available in sixteen models, from 1-3/4- to 7-inch diameters, and with boring distances from 50 to 150 feet.
Visit EquipmentWorld.com/info
TREGASKISS, BOOTH G-254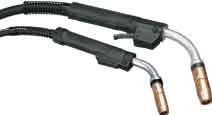 MIG Guns and accessories
With four models ranging from 350 to 650 amps, the Tough Gun semi-automatic air-cooled MIG Guns from Tregaskiss feature a Double-Life gun system. When the front end or cable become worn, the connections can be flipped from the front or back end by removing a trigger switch and gooseneck. Each Tough Gun is compatible with the Quick Load liner system – available in 10- to 25-foot custom lengths – allowing a new liner to be installed from the front end. The Tough Lock consumable system has a dual-lead thread design with contact tips that can be rotated 180 degrees for a new wear position, which can extend tip life.
Visit EquipmentWorld.com/info
KAWASAKI, BOOTH C-4735
Wheel loaders across wide size range
Experience the performance of Kawasaki loaders in a smaller size with the 42ZV-2, a 0.78-cubic-yard compact loader. The 42ZV-2 features a Tier 4 Interim emissions-compliant Kubota engine and a heavy box frame. The loader also has a walk-through cab design, easy-to-read monitors and pillar-less full windows. A rubber mounted cab reduces noise and vibration, improving operator comfort. Kubota will also feature the 1.18-cubic-yard 45ZV-2, the 65Z hybrid wheel loader and two Tier 4 Interim wheel loaders.
Visit EquipmentWorld.com/info
GRIFFIN DEWATERING,
BOOTHS C-4221 and S-520
Wellpoint system pumps and accessories
Griffin offers wellpoint pumps in models ranging from 4 to 10 inches and larger. Accessories available include wellpoints with a 1.5- to 2-inch PVC or stainless steel screen and flexible, reinforced hose swing joints with clear elbows and hand-tuning valves.
Visit EquipmentWorld.com/info
SUPERIOR INDUSTRIES, BOOTH S-640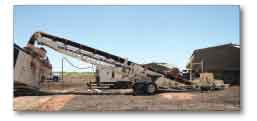 Three material-handling solutions
The 500-foot Trailblazer portable groundline conveyor can be towed easily and sets up and breaks down in about an hour. Superior's TeleStacker conveyor has a two-wheel mobile pivot base and radial travel tracks that allows high-capacity radial stockpiling in jobs that need transfer point mobility. The wheels can be hydraulically lifted off the ground to lower the feed point of the stacker while in operation. Two 24-inch steel tracks on each side attach directly to the FD axle radial fold-down arms. With a variable-height discharge conveyor, the RazerTail truck unloader requires only a short, earthen ramp and can easily relocate to another jobsite in a short amount of time.
Visit EquipmentWorld.com/info
SNORKEL, BOOTH G-220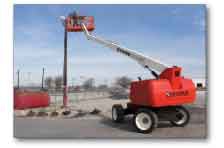 Large work area
Snorkel's S6090RT 60-foot scissor lift features a 1,250-pound lift capacity and a 24-foot-long work area with the standard dual deck extensions. The largest in a new line of four twin deck, rough terrain scissors, the S6090RT is powered by a 44-horsepower Kubota water cooled diesel engine. Auto-leveling hydraulic outriggers are included. To ensure rough terrain capability, the scissor features four-wheel drive, high grip tires, standard oscillating axles and a 14-inch ground clearance.
Visit EquipmentWorld.com/info
ALLMAND BROS., BOOTH S-632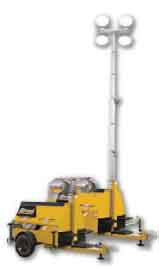 New light tower
Allmand's portable light towers now include the larger Maxi-Lite EX Series with a compact, sleek design. Also featured are the bright SHO-HD 1,250-watt lighting system, the V-Series vertical-only towers, the TLB-6235 four-wheel-drive backhoe loader, and Maxi-Heat portable industrial heater, Eclipse solar-assisted arrow board and several models of Allmand's portable light towers.
NOTE: Specs for this new light tower were not unveiled as of the press release, which states specs will be announced at the Rental Show.
Visit EquipmentWorld.com/info
ROGERS BROTHERS, BOOTH S-641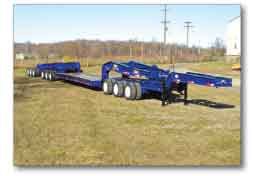 Lowbed trailers
With detachable rear frames and interchangeable deck styles, the Rogers lowbed trailers offer a versatile modular design. The 80-ton-capacity, 13-axle trailer has a rocker shaft in the rear that distributes weight to the rear six axles.
Visit EquipmentWorld.com/info
MILLER ELECTRIC, BOOTH G-254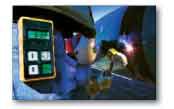 Welder accessories and safety gear
Miller's Big Blue 400 Eco Pro diesel engine-driven welder generator improves fuel economy by 25 percent and is 44 percent smaller and 41 percent lighter than models with similar output. Miller's Wireless Remote Hand Control uses a digital display and incrementally changes welding parameters at the point of use, providing control to adjust settings based on different joint configurations, electrode and wire sizes. Also featured are the XMT WCC system, the Big Blue 350 PipePro, the Trailblazer 302 Air Pak, and Arc Armor welding protection with Titanium Series industrial welding helmets and WeldX line of welding safety apparel.
Visit EquipmentWorld.com/info
LBX, BOOTH G-120

Five X3 Series excavators
Five X3 Series Link-Belt excavators with operating weights from 55,336 to 80,028 pounds, maximum dig depths of 22 feet 8 inches to 24 feet 1 inch, and horsepower ranges from 177 to 266. Meeting the Tier 4 Interim engine requirements, the new series offers Exhaust Gas Recirculation and DOC/DPF technology that will provide an estimated 7-percent fuel savings. Other features include an upgraded cab with a 7-inch color monitor, rearview camera and auxiliary audio jack for MP3 players, as well as enhanced hydraulic systems resulting in 3 to 5 percent improvements in cycle time.
Visit EquipmentWorld.com/info
LEADING EDGE ATTACHMENTS, BOOTH C-4350
Ripper/bucket combo
The Multi-Ripper bucket uses no hydraulic lines while ripping the sides and bottom of the trench relatively flat and with no depth limitation. The combination attachment is capable of replacing a hydraulic hammer and providing breaking of materials up to four times faster, according to the company.
Visit EquipmentWorld.com/info
AIR-WEIGH, BOOTH S-11318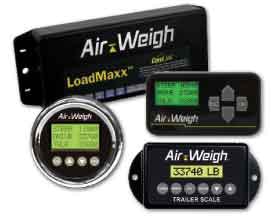 Onboard scales
The LoadMaxx and QuickLoad Series of onboard electronic axle scales from Air-Weigh allow drivers to see the GVW and on-the-ground axle weights while loading their haulers. Features include warning and overweight alarms, dual-point calibration, and choice of English, French, or Spanish.
Visit EquipmentWorld.com/info
ENGINAIRE,
BOOTH S-17221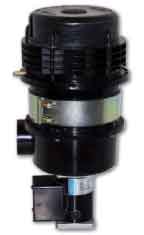 Controlled cab pressurization
The Enginaire Cabaire air pressurizer precleans and filters the air in cabs of equipment as well as electronic compartments. Incorporating an air pump instead of a fan, the air pressure removes dirt and leaks, preventing dust from entering the cab. Options include 12-, 12/24- and 115-volt motors.
Visit EquipmentWorld.com/info
GUNTERT & ZIMMERMAN,
BOOTH S-10133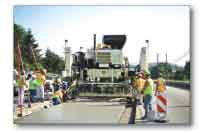 Slipform paver
G&Z's Model S600 multipurpose slipform paver features a double telescopic tractor frame, access walkway and hose hinges for a working range of 8 to 22 feet and a up to 7 feet of telescopic ability per side. The S600 can extend up to 22 feet with a dowel bar inserter with hydraulic vibrators or up to 26 feet with electric vibrators. Without a dowel bar inserter, the tractor can extend up to 29 feet 5 inches. The edge of the pavement to the widest point on the paver is less than 2 feet with the sensor support arms removed.
Visit EquipmentWorld.com/info
MAXWELL SYSTEMS, BOOTH H-31203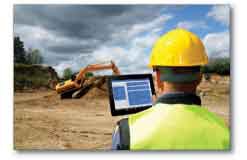 Project lifecycle software
The ProContractorMX provides operation control from takeoff and estimating through equipment management and usage to reporting and analysis. The software program provides an accurate view of project costs against budget.
Visit EquipmentWorld.com/info
FECON, BOOTH S-620
Flagship tractor in 600-horsepower class
The FTX600 mulcher achieves 98 inches of cutting height and 32 inches below grade, using a BH300 or BH350 Bull Hog. A Cummins WSX15 engine provides 600 horsepower. The FTX600 delivers 210 gallons of hydraulic flow to the variable speed mulching head. A 5.9-psi ground pressure offers a lighter footprint for this size class.
Visit EquipmentWorld.com/info
ROTOBEC, BOOTH S-753
Durable, lighter weight shears
The CI hydraulic shear structure – made of Hardox 450 steel – has been processed with the HDS 5000 VTN heat treatment system to increase durability. Further protection of the attachment is provided by an interchangeable and removable frontal protection plate. Designed for hydraulic excavators, the CI Series is weight reduction allows the units to mount on a variety of machine sizes.
Visit EquipmentWorld.com/info
CUMMINS, BOOTH S-16615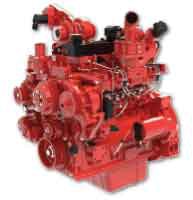 Increased power capability
The QSB3.3 is part of Cummins' Tier 4 Interim engines that range from 60 to 600 horsepower. Rated at 120 horsepower, the 4-cylinder, 3.3-liter QSB3.3 is more efficient due to the after-treatment of the Cummins compact catalyst, which removes particulate matter by oxidation with simple exhaust flow-through operation. The catalyst is less than 20 inches long, providing easy installation.
Visit EquipmentWorld.com/info
FORCE CONTROL, BOOTH 21036
Low speeds at full torque
The Force Control Two-Speed Drive package eliminates loss of torque or heat problems while working at every load speed. Added to the back of a standard motor brake, the drive provides inching speeds of 5-to-1 and 10-to-1 while maintaining full torque continuously.
Visit EquipmentWorld.com/info
PTH USA, BOOTH S-882
Multi-purpose crusher
The PTH rock crusher rotor revolves with up to 1,000 rpm milling the ground to a depth of 15 inches. Rocks are crushed with rugged carbide-tipped teeth and hydraulically adjustable counterblow bars to a granular size on the jobsite, eliminating the need to haul in pre-crushed material.
Visit EquipmentWorld.com/info
MORBARK, BOOTH S-552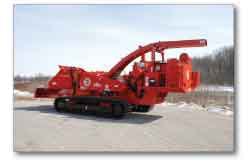 Diverse chippers
Morbark's 40/36 WCL Track Drum Chipper, 4600XL Track and 3800XL Wood Hogs, and the Beever M20R Forestry Brush Chipper will be on display. All products will showcase the company's wood-waste processing, shingle grinding, C&D shredding, waste-to energy and biomass preparation capabilities.
Visit EquipmentWorld.com/info
STANLEY, BOOTHS N-1819 and N-1827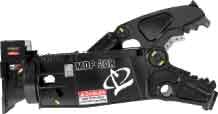 Separate concrete from rebar
The LaBounty MDP20R is a single-cylinder, midsize mobile demolition processor that weighs between 900 and 1,700 pounds less than competitive models and has a crushing force of 150 tons, says the company. With an operating weight of 4,300 pounds, Stanley says MDP20R offers one of the highest power-to-weight ratios in its class for 40,000- to 55,000-pound excavators.
Visit EquipmentWorld.com/info
TOPCON POSITIONING SYSTEMS, N-1959, S-869 (Silver Lot 3)
High-speed surface profiling
Collect surface data at speeds up to 65 mph while creating an exact model of the existing surface with Topcon's RTP-300 Real Time Profiler, which includes a GNSS dual-constellation satellite, receiver system, three laser profilers, wheel encoder technology and a comprehensive computer data collection system. The RTP-300 installs quickly and easily onto any vehicle with a trailer hitch, and produces PRI and IRI reports in addition to high resolution topography maps. The design data can be used on any machine control system.
Visit EquipmentWorld.com/info
LEICA GEOSYSTEMS, BOOTH 557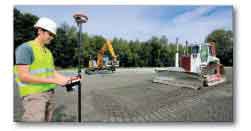 Site-wide systems
Leica Geosystems' RedLine product line enables using the same sensors across the entire construction site, and is controlled by a simple user interface. The modular system uses the following components: PowerBox, for site positioning; PowerTracker, a robotic tracking sensor; PowerAntenna, a versatile GPS/GNSS and PowerController, on-site design information for construction site staff. SBG Geo Construction software enables importation of design data from a range of industry standard formats.
Visit EquipmentWorld.com/info
THOMPSON PUMP, C-4945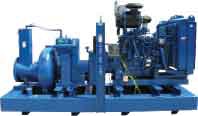 Simplified maintenance
Thompson Pump's Oil-Less Vacuum Technology allows a basic pump to prime automatically with lower maintenance and higher air handling for faster priming. The OVT system eliminates internal wear through the use of non-contacting rotors, increasing longevity and improving reliability. The priming unit only needs servicing every 20,000 hours. The air cooled system has no water levels to check, and is useful for a range of applications including sewer bypassing and wellpoint dewatering.
Visit EquipmentWorld.com/info
SCHWING, BOOTH S-817

Truck-mounted boom pump
Schwing America's S36 X truck-mounted boom pump features a four-section "Roll and Fold" boom that reaches 115.5 feet vertically with a 5-inch pipeline. The S36 X has a fuel-efficient 2025-5 120/80 MPS standard pump kit, which provides 178 cubic yards per hour and 1,233 psi at 23 strokes per minute. The pump includes Vector controls that provide two-way communication between the pump and operator, for quick troubleshooting. The pump also features open loop hydraulics, twin wall Super 3000 pipeline, carbide wear parts and a night light kit.
Visit EquipmentWorld.com/info
MBW, BOOTH C-7325

Vibratory plate compactor
Similar in appearance to the MBW GP3550, the new GP53800 vibratory plate compactor offers improved performance and a standard roll cage. The new GPR160DE is MBW's largest reversible plate offering. Also introduced is the 10-foot, 12-blade hydraulic steer MK12-161 Lowrider power trowel. MBW's R422, R442, and R482 rammers have improvements that result in a 5-year bellows warranty.
Visit EquipmentWorld.com/info
TALBERT MANUFACTURING,
BOOTH B-340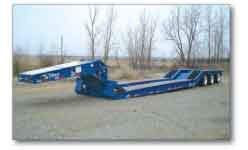 Custom trailers
Make ride-height adjustments easily with Talbert Manufacturing's 55-ton Roller Paver trailer, which has a ratchet-style design operable with a lever located on the driver's side of the trailer. The multi-positional gooseneck offers flexibility in providing additional ride-height settings. The trailer also features a lightweight tapered deck design to simplify loading and unloading.
Visit EquipmentWorld.com/info
GLOBAL CRANE SALES, BOOTH S-619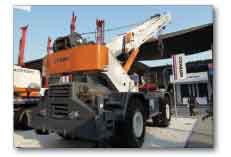 Range of standard features
Boost performance on the jobsite with the Zoomlion RT 60 rough terrain crane from Global Crane Sales. The 60-ton crane has a Cummins engine, Dana transmission and Rexroth hydraulics, and has standard features that include an auxiliary winch, rotation resistant wire rope, work lights, amber beacon, pintle hook, winch and side view cameras and a full set of tools. The RT 60 has 112 feet of main boom and a 33- to 56-foot jib, and can lift 10,320 pounds at a 65 foot radius with 81 feet of boom. The Zoomlion RT 80, an 80-ton model, will also be featured.
Visit EquipmentWorld.com/info