FLEXIBLE FUNNEL
Keep oils and fluids from dripping in even the tightest spots with the Form-A-Funnel draining tool from New Pig. The flexible tool bends to fit the space and then holds any shape, keeping fluids off of the shop floor and directing the flow into the drain. The Form-A-Funnel is constructed from moldable aluminum alloy and then encapsulated in thick, pliable nitrile rubber which is impervious to fluids and chemicals and handles temperatures to 425 degrees. The funnel cleans up easily by spraying it with cleaner or degreaser and wiping away residue. After use, the Form-A-Funnel stores in places traditional funnels won't fit – including rolled up inside a toolbox. The 22-inch-long by 8.625-inch-wide size is useful for servicing large trucks and diesel equipment, and can also be used on smaller equipment, as well as generators and compressors.
Visit EquipmentWorld.com/info
EDITOR'S PICK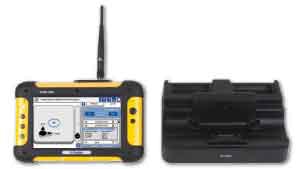 FIELD INFORMATION
Moving building information modeling into the field, Trimble's Field Link software suite uses a ruggedized 7-inch touch screen to give users access to field layout capabilities. In addition to performing specific layout tasks, you can document existing site conditions and view 3D design models, allowing crews to make more informed decisions when problems arise. The 3D model viewer rotates, orbits and zooms in and out. Trimble Field Link was designed for the Trimble Tablet to take advantage of a larger touch screen, additional processing power, increased storage, internet connectivity options and a full version of Windows 7. Two trade-specific versions are currently available: mechanical-electrical-plumbing and structural steel and concrete. Field Link for Structures, for example, contains modules that allow the creation of points from CAD files and the measurement of line work. The system and tablet package are currently priced at between $35,000 to $40,000.
Visit EquipmentWorld.com/info
STURDY SCALE
Simplify vehicle weighing with Cardinal Scale's Model 760, an electronic portable axle load scale that weighs just 400 pounds per aluminum platform, but handles 60,000-pound loads. Two low profile weighing modules have checkered steel deck construction and feature either steel or aluminum platforms. Useful for lower traffic applications where a full static truck scale is not needed, the Model 760 offers a choice of Cardinal indicators to complete the package. The scale also features a NEMA 4 stainless steel junction box, environmentally protected stainless steel load cells and four access ramps.
Visit EquipmentWorld.com/info
LOFTY HEIGHTS
JLG Industries' Model 340AJ boom lift features a 34-foot lift height, a 20-foot horizontal reach and a 17-foot up-and-over reach, with a gross vehicle weight of just 9,700 pounds. The 340AJ has a 500-pound platform capacity, a steel hood for durability and easy serviceability. Equipped with a Tier 4 diesel engine, the lift also offers a choice of a gas/liquid propane engine.
Visit EquipmentWorld.com/info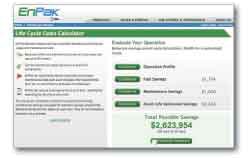 DETAILED DATA
Calculate potential savings with Miller Electric's EnPak Life Cycle Costs Calculator, which uses real field data on fuel cost, operating time, fleet size and other factors. Designed for the EnPak Mechanic Series, the calculator provides a detailed report that breaks down cost savings annually, as well as over the life of the truck or fleet. Using the data, field service technicians can calculate fuel savings, service intervals and asset life extension.
Visit EquipmentWorld.com/info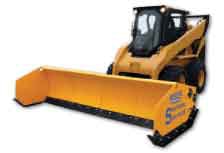 ONE-PASS PLOWING
Eliminate follow-up plowing with the Sectional Sno-Plow from Artic Snow and Ice Control Products, designed for use with backhoes, skid steers, compact loaders and tractors. The LD plow has a steel moldboard design with 32-inch-wide individual sections that feature spring loaded trip edges, enabling the sections to move independently to allow the plow to contour to the surface. The sections enhance plowing efficiency while minimizing the chance of impact injuries and property damage. If the cutting edge is damaged, each section can be individually replaced, resulting in cost savings. The plow also features bolt-on mechanical side panels to prevent damage to the equipment.
Visit EquipmentWorld.com/info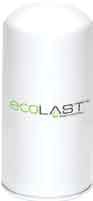 ALLEVIATE ACID BUILDUP
Extend oil life with the ecoLAST line of heavy duty oil filters from Wix Filters, which uses a new filtration technology to limit acidity level buildup. The ecoLAST filters capture dirt and soot like a traditional filter, then uses a special media to sequester acids. The filters require no changes or modifications to the vehicle, and work with conventional and synthetic lubes. The filters are suitable for biodiesel, LPG, gasoline and diesel fuels. By April, Wix will have ecoLAST filters available for Cummins ISX, Cummins M11, Mack MP8, Detroit DD60, Caterpillar C13 and Caterpillar C15 engines.
Visit EquipmentWorld.com/info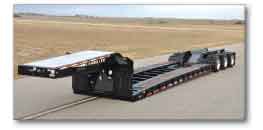 HAUL IT ALL
Choose from two sizes with Landoll's 800 Series heavy haul detachable lowboy trailers – the 35-ton Model 835, which has two or three axles, or the 55-ton Model 855, with three or four axles. The hydraulic non-ground bearing detachables have loaded deck heights down to 17 ¾ inches and 32-foot deck lengths. Both models have four 100,000-pound high tensile steel beams, 4S2M ABS with spring brakes on all axles and 12-foot swing out extensions. The 12-foot 5-inch gooseneck has two kingpin settings and seven ride height settings. The 800 Series also features a recessed boom trough, a recessed bucket trough in the lower deck and dropped wheel bolsters. Select your choice of six standard powder color top coats or optional hot dip galvanizing.
Visit EquipmentWorld.com/info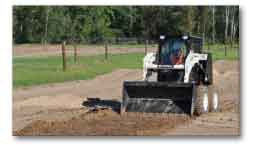 NEW TEREX LINE
With four radial-lift and four vertical-lift models launched at the World of Concrete show, Terex is jumping into the skid-steer market to complement its established line of compact equipment, including excavators, wheel loaders and, from the ASV heritage, compact track loaders or the tracked equivalent of skid steers. The radial-lift TSR skid steers and corresponding vertical-lift TSV models range from 50 to 83 horsepower, and have high ground clearances and rear angles of departure (10.5 inches and 29 degrees, respectively, on the medium-frame TSR50/60 and TSV50/60 models). A two-speed transmission is optional.
Visit EquipmentWorld.com/info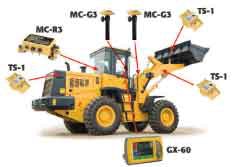 LOADER CONTROL
Ensure control at every step with Topcon Positioning Systems' latest addition to the 3D-MC lineup, a machine control package for wheel loaders. Available options include light bars for enhanced elevation and steering control.
Visit EquipmentWorld.com/info
The package contains:
• Dual mast GPS system with 3 TS-1 tilt sensors
• GX-60 control box
• MC-R3 receiver
• 2 MC-G3 GPS antennas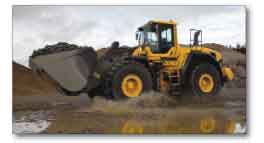 TORQUE BOOSTER
Handle a variety of materials with Volvo's G-Series wheel loaders, which feature the company's Advanced Combustion Technology to provide the engine with higher torque at lower speeds. The six-cylinder Volvo D13 Tier 4 Interim engines also have low noise levels and exhaust emissions. The G-Series also features OptiShift transmission to improve efficiency, the Reverse by Braking function and a refined driveline with a torque converter with lock-up and free wheel stator.
Visit EquipmentWorld.com/info
Models
L150G: 45,187-lb. breakout force, 5.2-cu. yd. bucket capacity
L180G: 50,537-lb. breakout force, 6.3-cu. yd. bucket capacity
L220G: 51,301-lb. breakout force, 7.3-cu. yd. bucket capacity
DIG DEEP
Drill efficiently in tough soil conditions with Little Beaver's HYD-PS11H hydraulic earth drill, which has an 11-horsepower Honda overhead valve gas engine. Useful for a range of applications including soil sampling, the HYD-PS11H features a compact design for difficult-to-reach areas, as well as front and rear handles to simplify loading and unloading. The drill offers a controlled 150-rpm speed and can achieve 12-foot-depths with a 12-inch or smaller diameter auger, and can drill holes to 16 inches in diameter with larger augers. The drill features a 5-gallon reservoir capacity, a three-wheel chassis and an integrated forward/reverse level for safety. A range of options are available, include three different handles, a 220-rpm motor and a high torque anchor handle.
Visit EquipmentWorld.com/info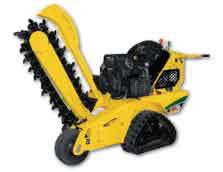 EASY INSTALLATION
Simplify gas and electric line installation with Vermeer's RTX150 pedestrian trencher, which is also useful for installing irrigation lines and drainage tiles. The RTX150 has a 20-horsepower Kohler gas engine and features a 36-inch maximum digging depth. For varying jobsite conditions, the trencher has interchangeable tires or tracks with 20-degree oscillation for increased traction on uneven ground. Vermeer's VZ steering system allows the operator to steer the machine with light pressure on the handlebars, eliminating the need for levers or wheels. The unit features a compact design for maneuverability in tight areas with a 35-inch-wide footprint and a zero-turn radius.
Visit EquipmentWorld.com/info
Check out these World of Concrete introductions on our website, www.equipmentworld.com, or go to our digital edition, www.EquipmentWorldDigital.com to access direct links to each writeup:
• Bobcat E55 compact excavator
• Doosan mid-range hydraulic excavators
• Cat's compact line additions
• Terex front-discharge mixer truck
• Freightliner, McNeilus bridge formula mixer chassis
• Stihl's cut-off machine safety, maintenance and operation video
• Leica Geosystems and GOMACO joint venture
• Honda's EB, EG and EM series generators
• Hyster lift truck