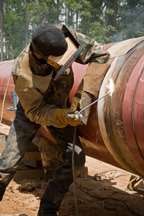 Lincoln Electric is offering a free Pipeline Welding Seminar for contractors and professionals in the pipeline industry. The three-day, in-depth session will take place on March 29-31 at Lincoln Electric's corporate headquarters in Cleveland, Ohio.
The seminar will focus on topics such as solutions to common pipeline welding challenges, understanding hydrogen cracking and how to minimize it, effects of welding essential variables and new solutions for overall improved safety, productivity and quality.
Sessions will be followed by welding demonstrations on the latest pipeline welding techniques, equipment and consumables. Tours of Lincoln's manufacturing facilities also will be included. For more information or to reserve a spot, contact Lincoln Electric at (216) 383-8355. Space is limited, and the deadline to register is March 15. For more information, visit lincolnelectric.com.