By Amy Materson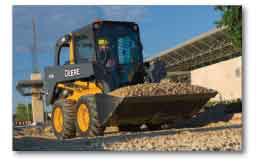 SPEED THINGS UP
Increase your skid steer's travel speed by as much as 62 percent with John Deere's two-speed option, available for 318D and 320D mid-frame models. The option increases ground speed from 6.8 to 11 mph with the flip of a toggle switch on the joystick, boosting cycle times and allowing for less time traveling between jobs. The electronically controlled shifting enables seamless transition during shifts, which decreases bucket spillage.
Visit EquipmentWorld.com/info
EDITOR'S PICK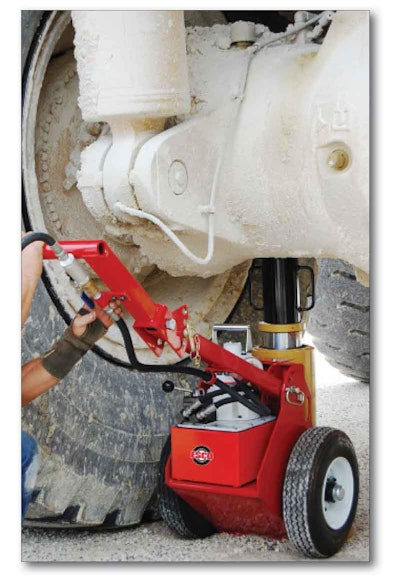 JUMBO JACK
Eliminate the need to block and crib to a height before using high tonnage jacks with ESCO's high tonnage/high lift jacks. The jumbo jacks allow you to wheel the unit into position, add a lift extension and make the lift. Stacking aluminum safety lock rings ensure there is no need for further support. Available in five new models with 100- to 250-ton lifting capacity, the jacks are air/hydraulic powered and have 13-inch pneumatic tires. The jumbo jacks have lift extension saddles stored in the base to allow easy adjustments to 5-, 9- and 12-inch heights. A welded, fully enclosed heavy-duty steel frame includes built-in lifting holes, and the unit is balanced for easy moving. Extension holders are bolted to the frame to simplify storage.
Key features:
• 23 inches wide to fit in tight spots
• Requires 90 to 150 psi air supply to power the hydraulic pump
• 50-inch-long, 8-position handle for easy tilt back
• Lifting strokes range from 14.5 to 22.75 inches.
Visit EquipmentWorld.com/info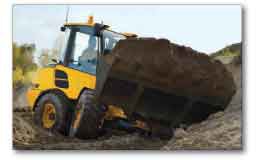 CONVENIENT COMPACT
Experience improved visibility when working in confined spaces with Volvo's L25F compact wheel loader, which delivers 60 net horsepower and has a 1- to 1.6-cubic-yard bucket capacity. The L25F features an articulating/oscillating joint in the center of the machine and operator-selectable differential locks to deliver stability and traction when working in rough terrain. An ergonomic multi-function joystick simplifies operation.
Quick specs:
Operating weight – 10,650 lbs.
Dump height – 8 ft. 2 in.
Breakout force – 8,320 ft.-lb.
Lifting capacity – 7,495 ft.-lb.
Visit EquipmentWorld.com/info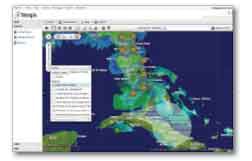 SMART SOFTWARE
Improve productivity and streamline operations with Telogis' Fleet 8 management software, which centralizes daily fleet management tools and includes traffic and weather content. Advanced tracking tools such as IFTA/IRP Data Feed, Multiple Vehicle Histories and Fuel Card Modules improve usage of assets in the field. The Streetside/Birds Eye View feature enables you to view the actual location and surrounds of your field team, and a What Happened Here? tool simplifies researching incidents for investigations involving your equipment or vehicles. The software easily integrates with Telogis Route and Telogis Mobile for a comprehensive equipment management solution.
Visit EquipmentWorld.com/info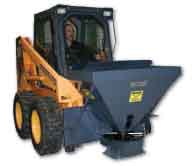 SKID STEER SPREADER
Quickly spread sand and salt with the Edge Hydraulic Sand Spreader from CEAttachments, a skid steer attachment that spreads material from 28 inches wide up to 28 feet. A self-loading 8-cubic-foot hopper has an agitator to ensure constant flow and prevent bridging of material, and a heavy duty screen with 3-inch openings protects interior components. Three adjustable gates at the bottom of the hopper move the material onto an 18-inch wheel with six paddles to disperse the material. The spreader measures 41 inches high by 32 inches deep by 54 inches wide.
Visit EquipmentWorld.com/info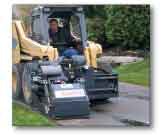 PRODUCTIVE PLANER
Mill asphalt or concrete with the engine drive planer from Zanetis Power Attachments, which works with skid steers with lift ratings of 2,000 pounds or greater. The completely self-contained units require no hydraulic or electrical connectors and are available with engines from 75 to 200 horsepower. The units offer cutting depths of 0 to 6 inches with +/- 10 degrees of tilt and 26 inches of sideshift. The planers feature pendant control for hydraulic tilt, depth and sideshift functions, and keyed pendant controls for engine start, low and high throttle and emergency stop.
RH1850: 18-inch drum, 40 teeth, 2,710-pound weight
RH2450: 24-inch drum, 50 teeth, 2,770-pound weight.
Visit EquipmentWorld.com/info
QUICK DRILL
Produce clean holes quickly with Little Beaver's MDL mechanical earth drills, which have a 360-rpm operating speed. The compact MDL Series accesses areas that cannot be reached by a skid-steer mounted auger. The drills have a steel torque tube to enable the operator to use a large diameter auger with no kickback, and a centrifugal clutch slips in the event the auger is overloaded or encounters a buried object. A universal auger is included, and kits are also available to convert the drill into a horizontal boring machine.
Models:
MDL-5B: 5.5-horsepower Briggs & Stratton engine; 8-inch semi-pneumatic tires
MDL-5H: 5.5-horsepower Honda engine; 8-inch semi-pneumatic tires
MDL-8B: 8-horsepower Briggs &
Stratton engine; 10-inch pneumatic tires
MDL-8H: 8-horsepower Honda engine; 10-inch pneumatic tires
Visit EquipmentWorld.com/info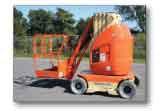 COMPACT LIFTER
Reach over and around obstacles with JLG Industries' T26E Toucan, a mast boom lift that features a vertical telescopic mast with a jib. Featuring a 500-pound-capacity platform that measures 39 inches wide, the Toucan will lift two workers and their tools to a platform height of 26 feet. An enhanced direct electric drive ensures longer battery life, and an AC motor offers quiet operation and lowers maintenance costs.
Visit EquipmentWorld.com/info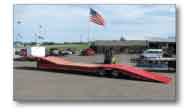 LOW LOAD ANGLE
Haul a variety of equipment with Felling Trailers' Perimeter Frame design trailer, which has an 8-foot 6-inch hydraulic tail and a 4-foot fold-under approach plate. A 6-degree slope option at the end of the main deck simplifies loading low clearance machines, and the air ride suspension delivers a smooth but firm ride. The 10-foot upper deck is manufactured from white oak and features twin lockable toolboxes. The trailer also features 200,000-pound twin two-speed jacks and stake pockets and chain slots every 4 feet.
Visit EquipmentWorld.com/info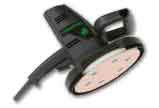 HANDY SANDER
Sand large surface areas with the ETS 225 drywall sander from CS Unitec, which has dust-free sanding discs with vacuum holes that, when combined with a dust extraction vacuum, reduce airborne dust. The ETS 225 has a 9-inch-diameter disc, a 6-amp variable speed motor that operates from 0 to 2,300 rpm and a lock-on button for continuous use. An 80- and a 100-grit aluminum oxide disc is included and additional grits are available. Optional accessories include a telescopic rod and angle attachment.
Visit EquipmentWorld.com/info
HEAVY DUTY ROTATION
Handle a range of materials including rock and pipe with the Builtrite heavy duty Butt Tine Utility Grapple from Northshore Manufacturing. The grapple can be mounted on excavators and features 360-degree continuous rotation, a high torque motor and a high pressure hydraulic swivel. Manufactured from high tensile steel, the grapple has oversized hardened cylinder and arm pivot pins with replaceable bushings, high pressure cylinders with holding valves and easily accessible grease zerks. An optional sand bucket attachment handles small loose material.
Visit EquipmentWorld.com/info