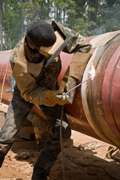 Lincoln Electric will offer a free Pipeline Welding Seminar on Oct. 11 from 1 p.m. to 5 p.m. and Oct. 12 from 8 a.m. to 5 p.m. at Lincoln Electric's corporate headquarters in Cleveland, Ohio.
The seminar, intended for contractors and professionals in the pipeline industry, will focus on topics such as solutions to common pipeline welding challenges, understanding hydrogen cracking and how to minimize it and effects of welding essential variables.
Participants will see welding demonstrations on the latest pipeline welding techniques, equipment and consumables, and they will be able to tour Lincoln's manufacturing facilities.
The session will also include a guest speaker form the U.S. Department of Transportation's Pipeline Hazardous Materials Safety Administration.
For more information or to reserve a spot, contact Lincoln Electric at 216-383-8355. The deadline to register is Oct. 1.