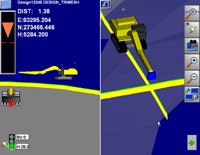 Scottsdale, AZ — August 23, 2010 — (TSX: HEM) X300 excavator guidance system. Integrating Hemisphere GPS' patented Crescent® Vector™ GPS compass technology X300 measures and displays three-dimensional excavator positioning to operators, vastly improving excavation proficiency and accuracy and greatly reducing rework.
Following the successful release of the X200 full two-dimensional machine guidance system in March of this year, X300 provides real-time three-dimensional visual feedback to the operator on the position of the bucket teeth relative to a design grade surface. X300 will also function in a full two-dimensional mode when jobs do not require a three-dimensional design file. 'Design Grade on site' features offered through the touch screen interface conveniently guide the operator through two-dimensional jobs. Even the smallest contractor will realize the benefits of higher productivity, increased safety, and a quick return on investment.
"X300 reduces the need for survey staking and manual grade-checking, which leads to greater efficiency, lower cost, and improved safety," says John Bohlke, General Manager of Earthworks at Hemisphere GPS. "The operator can remain in the cab making the best use of the operating hours." X300 ensures improved productivity, accuracy, and job execution flexibility through a combination of ultra-rugged tilt sensors, GPS systems, three-dimensional design file, and an operator touch screen display. X300 is ideal for both coarse and fine-grade excavation applications including site preparation and general earthwork, road construction, mining, utility trenching, complex grading, and marine dredging. X300 is the excavator guidancetool that allows for more competitive bids, instills confidence in project status and completion accuracy, and nets significant enhanced profitability.
Hemisphere GPS has adapted its proven machine control technology and fit for purpose solutions business model currently used in agriculture, aerial application, marine, and survey markets to meet the needs of the construction industry.
Hemisphere GPS is in the process of signing Earthworks dealer agreements in the US and Canada and is currently seeking additional product dealers. The company also plans to expand its Earthworks product portfolio by offering complementary excavator and blade solutions throughout 2010. For more information on Hemisphere GPS' Earthworks business and Earthworks X300, please visit www.hemispheregps.com.
Hemisphere GPS designs and manufactures innovative, cost-effective GPS products for positioning, guidance, and machine control applications in agriculture, marine, construction, and other markets. The Company holds numerous patents and other intellectual property and owns several leading brand names, including Outback Guidance®, a leading brand in precision GPS for agriculture. The Company is headquartered in Calgary, Alberta, with major product development, sales, and marketing facilities in Arizona, Kansas, and Australia. Hemisphere GPS is listed on the Toronto Stock Exchange (TSX) trading under the symbol "HEM" and is one of the TSX Cleantech designated companies. For more information about Hemisphere GPS, please go to www.hemispheregps.com.
The above disclosure contains certain forward-looking statements that involve substantial known and unknown risks and uncertainties. These forward-looking statements are subject to numerous risks and uncertainties, certain of which are beyond Hemisphere GPS' control, including: the impact of general economic conditions, industry conditions, increased competition, the lack of availability of qualified personnel or management, fluctuations in foreign exchange or interest rates, stock market volatility and market valuations of companies with respect to the announced transactions and the final valuations thereof, and obtaining required approvals of regulatory authorities. Hemisphere GPS' actual results, performance or achievement could differ materially from those expressed in, or implied by these forward-looking statements and, accordingly, no assurances can be given that any of the events anticipated by the forward-looking statements will transpire or occur, or if any of them do so, what benefits, including the amount of proceed, that Hemisphere GPS will derive there from.