Their equipment category may be "light" but these machines take on a variety of heavy-duty assignments. Be sure to check out our digital edition for even more products.
Compaction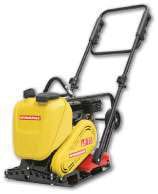 Smooth Compaction
Dynapac's LF forward compaction plates incorporate a specially designed bottom plate and a water distribution system for smooth compaction. The LF75 and LF100 easily convert from soil to asphalt. The bottom plate on each ensures edges give a well-defined contact surface that leaves no marks on the mat. The water distribution system makes refills easy for less downtime on the job. The LF75 comes with a Honda engine and a 16.5-inch bottom plate, and the LF100 uses a gas or diesel engine and features a 20-inch wide bottom plate.
Visit EquipmentWorld.com/info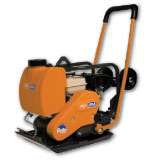 Clean Turns
The PCX20A asphalt plate compactor from Belle Group features a delta-shaped base plate for easy, damage-free turns in confined areas. The compactor uses a quick-release, 2.8-gallon water tank and a carbon water sprinkler that prevents corrosion. The PCX20 offers compaction force of 2,250 foot-pounds with a 4-horsepower Honda GX120 engine. Plates are 19.7 x 22.8 inches, and the unit travels at 91 feet per minute.
Visit EquipmentWorld.com/info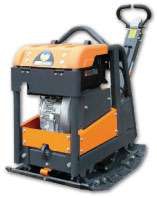 Tough Compaction
Belle Group's reversible plate compactors are designed to withstand tough site conditions. Four new models provide easy operation, engine protection, increased belt life and high performance. Machines range from compact units to large and maximum-output machines and weigh between 340 and 1,150 pounds. Plates range from 16 x 26 inches to 28 x 37 inches, and force ranges from 6,748 to 13,527 foot-pounds.
Visit EquipmentWorld.com/info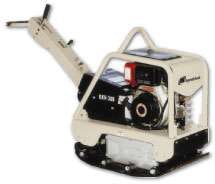 Vibration Reducer
Choose from four models with Doosan Infracore Portable Power's BXR-Series of reversible vibratory plate compactors. Featuring dual eccentric shaft technology for maximum compaction force, the BXR-Series offers a range of 3,417 to 9,257 pounds of centrifugal force. A reversing feature enables the operator to change directions with a single lever, and shock mounts positioned near the engine minimizes handle vibration
Visit EquipmentWorld.com/info

Confined Compaction
JCB's VMP reversible plate compactors series are hydrostatically operated and designed to effectively compact granular and cohesive material. With both reversing and stationary features, these machines allow you to carry out compaction tasks in confined areas where turning would otherwise be difficult or impossible. All VMP models feature a single forward/reverse control lever as well as specially balanced and isolated guide bars to protect the operator against hand-arm vibration effects. The VMP Series is equipped with lifetime-lubricated vibrator bearings along with a wear-resistant, high-grade cast damping plate.
Visit EquipmentWorld.com/info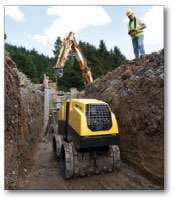 Smart Compactor
Perform a variety of applications with BOMAG's BMP 8500 multi-purpose articulated compactor, which features centrifugal force output options of 8,000 and 16,000 pounds and working widths of 24 and 33.5 inches. Powered by a 19.4-horsepower Kubota engine, the BMP 8500 features dual exciters and directed centrifugal force. BOMAG's Ecomode system, which automatically idles the engine during pauses in compaction, is a standard feature. Intelligent Vibration Control helps achieve consistent results.
Visit EquipmentWorld.com/info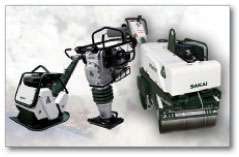 Rammers, Plates
Sakai's new rammer line – the 110-pound RS45, 160-pound RS65 and 180-pound RS75 – are powered by 2.3- to 2.8-horsepower Honda gas engines. The rammers have plate widths of 9 x 13.5 inches to 11 by 13.5 inches, and impact frequencies of 10.8 vibrations per minute to 11.3 vpm. In addition, the company's five vibratory plate compactor models cover a range of asphalt and soil applications.
Visit EquipmentWorld.com/info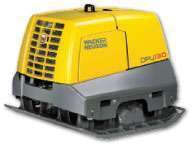 Remote Controlled Compaction
Perform the work of a 7-ton roller while experiencing the maneuverability of a vibratory plate with Wacker Neuson's DPU 130 reversible plate. The plate delivers 29,225 pounds of centrifugal force and is operated by a smart control infrared remote control. The 2,612-pound machine has a 47.2-inch operating width and can compact up to 24,025 square feet per hour. The DPU 130 also has a diagnostics system for all main components and an anti-theft protection system.
Visit EquipmentWorld.com/info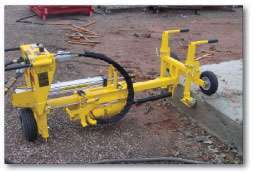 Diverse Drill
E-Z Drill's new 240B combo drill system converts easily from a rock drill to a core drill. Designed for straight-line drilling on a level subgrade, the 240B features totally pneumatic operation, uses a three-speed motor and requires a minimum of 77 cfm for operation. It cores and drills holes from 5/8-inch diameter up to 2 ½ inches and drills up to 18 inches deep. The 240B's compact frame allows operation within a 4-foot patch and drills within 6 inches of a corner.
Visit EquipmentWorld.com/info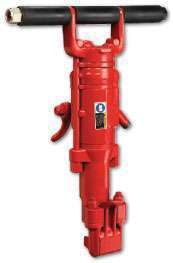 Streamlined Drill
The CP 0022 sinker drill from Chicago Pneumatic incorporates a streamlined design with smooth contours, a side exhaust and a flat back for easy handling. The drill provides drilling capability for holes up to 1 ¾ inches in diameter and 8 feet deep. A main valve and cylinder port maintains constant drilling speeds when air supply is limited.
Visit EquipmentWorld.com/info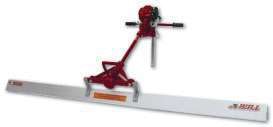 User-friendly Screed
Compact and cut concrete with Stone Construction Equipment's Screed Bull handheld vibrating power screed, which has horizontal and vertical vibration. Two models – the 25-pound VSB70 and the 32-pound VSB80 – deliver optimum performance in 2- to 9-inch slumps. An equilateral triangle geometry eliminates bending, twisting or warping, and an adjustable handle improves operator comfort. ThVe screed boards are available in 4- to 16-foot lengths, and extension straps can connect two units together for larger pours.
Visit EquipmentWorld.com/info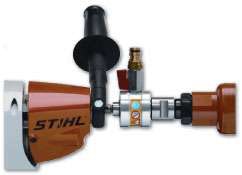 Convenient Drill Adapter
Convert the BT 45 into a gasoline powered handheld core drill with Stihl's core drill adapter, which expands its drilling capabilities to include drilling holes in concrete. The adapter enables the drill to function where electrical power is unavailable, fits a wide range of core bits and accessories. The water attachment comes standard with a 5/8-inch adapter for up to 1 ½-inch-diameter core bits. An optional 1 ¼-inch adapter mounts core bits from 1 5?8 to 6 inches.
Visit EquipmentWorld.com/info

More Access, Less Excavation
The PowerGrit saw from ICS uses new cutting technology to allow easier access to the cut and less excavation. Using a brazed layer diamond coating chain design, the PowerGrit allows single-point access, reducing labor time and operator effort while increasing safety. The saw allows access to the entire cut from one position and cuts through ductile iron, cast iron, PVC, HDPE and other pipes.
Visit EquipmentWorld.com/info
Clean Cut
Cimline's new PCS-25 pavement crack saw delivers clean cuts and easy maneuverability in random crack sawing. The PCS-25 offers the smooth cutting power of a diamond blade with the control and power of a crack saw. The saw comes standard with adjustable handle height and a 25-horsepower gas engine.
Visit EquipmentWorld.com/info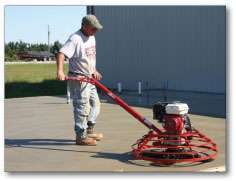 Economical Trowel
Allen's new E-Series Walk-Behind Trowel line provides less weight and more economical prices while providing quality and durability. The E-Series offers both a 36-inch and 30-inch diameter rotor configuration powered by a 5.5-horsepower Honda engine. The series includes a twist pitch blade adjustment and a handlebar-mounted safety switch.
Visit EquipmentWorld.com/info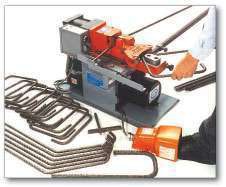 Cut and Bend
The Fascut model FS-600 cuts and bends through #6, ¾-inch diameter rebar in 2-4 seconds. The FS-600 uses an open jaw shear to cut rebar and a three-point bending system that ensures uniform bends. The unit plugs into a standard 110-volt outlet or a 5,000-watt generator. Carrying handles allow two men to pick up the 180-pound unit.
Visit EquipmentWorld.com/info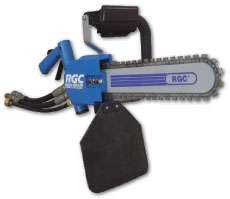 Concrete Cutter
The lightweight RGC MiniSaw provides an easily portable concrete cutter for confined spaces and quick cutting jobs. The aluminum frame enhances cutting precision and productivity. Users choose between a 13-inch or 15-inch bar featuring a roller nose sprocket and eight internal water passages for maximum bar and chain life. Diamond-segmented chains make clean plunge, bottom, notch, trim and corner cuts without over-cutting.
Visit EquipmentWorld.com/info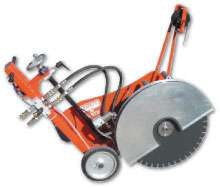 Versatile Handsaw
Procontractor Supply's hydraulic handsaw can be mounted on a walk-behind cart or used as a hand saw. The versatile saw features a 24-inch diamond blade that cuts concrete up to 8 inches deep. A flush cut saw model is also available. Saws come with 8-,10- or 12-gpm motors running at 2,000 psi.
Visit EquipmentWorld.com/info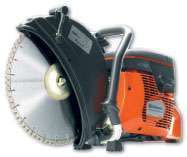 Cut Emissions
The Husqvarna K760 handheld power cutter features an X-Torq engine that reduces emissions up to 75 percent and lowers fuel consumption. The Active Air Filtration system extends filter life allowing the saw to run up to one year without service. The K760's power-to-weight ratio and low vibrations reduce operator fatigue and enables longer cutting time.
Visit EquipmentWorld.com/info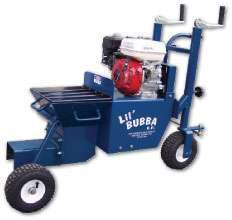 Fast Curb Installation
Lil' Bubba curb machines are designed for fast and easy installation of curbs up to 8 x 12 inches. The machines are self-propelled by a four-horsepower Honda engine and reach speeds up to 16 feet per minute. Lil' Bubba forms over rebar and handles up to 3/8 inches of aggregate.
Visit EquipmentWorld.com/info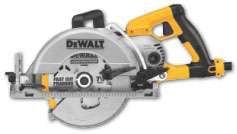 Simplified Sawing
DeWalt's DWS535 Worm Drive Circular Saw simplifies concrete forming and other applications, and features a worm drive mechanism for longer life and higher torque. The DWS535 also has sturdy magnesium shoe, rugged control levers and handles and a cord retention and protection system. A top access spindle lock is easy to actuate, engages immediately and eliminates oil leaks.
Visit EquipmentWorld.com/info
Powerful Breaker
Perform a variety of jobs such as concrete foundation removal with Hilti's TE 1500-AVR breaker, which has 22 foot-pounds of impact energy and delivers up to 1,950 blows per minute. The TE 1500-AVR features sub-chassis active vibration reduction to improve operator comfort, and an active cooling system reduces wear on the motor, electronics and hammering system. A brushless SR motor eliminates the need to replace carbon brushes.
Visit EquipmentWorld.com/info
Earthmoving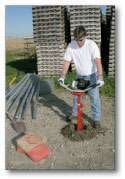 Fuel-Efficient Digger
The 240 hole digger from General Equipment uses fuel efficient four-stroke engine technology in a one-man, handheld digger. The 1.6-horsepower Subaru EH035 engine uses new four-stroke technology and eliminates the need for premixed fuel and oil solutions. The 240 produces a maximum drilling torque of 55 foot-pounds. The 1-inch diameter driveshaft connection uses earth augers between 2 and 8 inches in diameter, and the standard digging depth is 30 inches.
Visit EquipmentWorld.com/info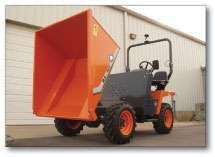 Heavy Duty Dumper
Compact Excavator Sales' MZ-Imer heavy duty site dumper offers payloads from 3,300 pounds to 4,500 pounds. The dumpers feature a hydraulic front steel dump bed, 2 or 4 wheel drive, 4 speeds in forward and reverse, diesel engines and certified fold-down ROPS. The versatile dumpers haul concrete, debris, sand, gravel or tools.
Visit EquipmentWorld.com/info
Power and lighting
Space Saver
Save space on work trucks with Vanair's Air N Arc All-In-One welder, generator, air compressor and battery booster combination unit. Designed with a two-generator system, the unit allows users to weld and use AC power simultaneously. Air N Arc units provide 20 to 34 cfm and up to 175 psi and 5 to 10 kilowatts of AC power. Remote oil drains, easy access to air filters, tank drains, and self-cooling and cleaning link belts ensure easy maintenance.
Visit EquipmentWorld.com/info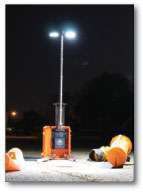 Portable Lights
The Area Lighting System from Air Systems provides HID, LED, 850nm and 950nm lights in a compact, portable design that provides long light duration and deployment in less than 30 seconds. Four DC power options offer extended run time. The system features collapsible stainless steel support legs, an aluminum extension pole and a lamp head that extends to an overall 8 feet. The unit folds into a watertight case for easy transport and storage.
Visit EquipmentWorld.com/info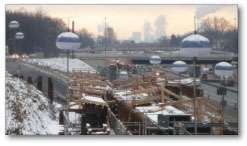 360-Degree Lighting
Evenly distribute lighting on the jobsite with Powermoon's lighting balloons. Balloons provide 360-degree, evenly distributed light on long-term jobs or on portable units. Non-directional light from balloons eliminates glare by diffusing light evenly across the site. An umbrella mechanism opens and closes the balloons with no gas or air-pressure involved, preventing the balloon from accidentally deflating.
Visit EquipmentWorld.com/info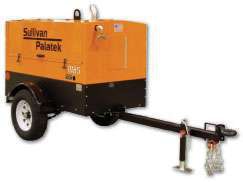 Compact Compressor
Sullivan-Palatek's D185P3 portable air compressor offers a compact, lightweight unit for easy travel and storage. The 185-cfm rotary screw portable air compressor features large gull-wing doors for easy access during service. The unit provides stop, turn and tail lights and heavy-duty safety chains and either ball or lunette eye type hitch.
Visit EquipmentWorld.com/info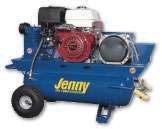 Versatile Compressor/Generator
Jenny Products introduced two compressor/generator combination models, the K11HGA-17P-3000W and the G13HGA-17P-3000W that provide a versatile machine for industrial applications. The K-pump K11 is powered by an 11-horsepower Honda GX series OHV engine with electric start and produces 8.9 cfm at 100 psi or 8.6 cfm at 125 psi. The G13 features a G pump and a 13-horsepower, electric start Honda GX engine and delivers 16.2 cfm at 100 psi or 15.6 cfm at 125 psi. Each model includes a 3,000-watt, 115/230-volt generator with 17-gallon, powder-coated air tanks.
Visit EquipmentWorld.com/info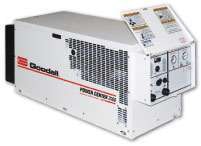 Increase Efficiency
Enhance the efficiency and flexibility of a service vehicle with the Goodall 2000 Series power center. The 3-in-1 workhorse provide up to 250 amps DC welding capability and integrates up to a 5,000-wattVcompressor. The unit's control box is removable for remote mounting, and simple plugs make mounting easy.
Visit EquipmentWorld.com/info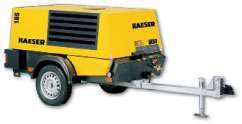 Smooth Operation
Kaeser's M50 Mobilair portable compressor incorporates a new push-to-load switch for easy starting and smooth operation. The unit delivers 185 cfm at 100 psig and features a galvanized steel canopy that allows for quick access to components. The Sigma Profile rotary screw airend and a heavy-duty, 4-cylinder Kubota diesel engine provide more air and less fuel. The unit comes with a cold-start battery and an instrument and lighting package.
Visit EquipmentWorld.com/info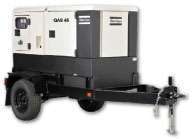 24-Hour Generator
Atlas Copco's QAS 45 portable generator features a 70-gallon fuel tank that allows a 24-hour run time of prime power. The QAS 45 is equipped with an Interim Tier 4 Kubota diesel engine and a Stamford BCI series alternator to deliver 35 kilowatts of power. Standard features include a multi-voltage selector switch, remote start and stop capability and a digital control system.
Visit EquipmentWorld.com/info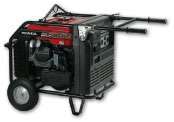 Quiet Generators
The Honda Industrial series generators feature four-stroke engines and acoustically tuned muffler and airflow systems that keep decibel levels low on the jobsite. Each generator comes equipped with a powerful commercial OHV engine and G.F.C.I.-protected circuits. The Automatic Voltage Regulator (AVR) and Auto Throttle features help deliver consistent power for sensitive equipment. Four separate models range from 3,000 to 5,000 watts of AC output, and fuel tank capacity ranges from 2.7 gallons to 6.6 gallons.
Visit EquipmentWorld.com/info
One-man Set-up
Light towers from Godwin Pumps are designed for easy one-man set-up and breakdown. The portable towers measure 30 feet tall with a four-point outrigger stance capable of withstanding 65-mile-per-hour winds. The unit features 360-degree rotating steel masts with four 1,000-watt metal halide lights that cover 5 to 7 acres. Light towers provide automatic shutdown for low oil and high temperature notifications.
Visit EquipmentWorld.com/info
Welding
Powered Welder
Lincoln Electric's Bulldog 140 provides a powerful welder and generator in one portable unit. It provides up to 140 amps of AC welding output for arc welding and includes a full-range calibrated welding control. The unit delivers up to 16.7 amps continuous power from a 240-volt AC receptacle and up to 33.3 amps continuous power from a 120-volt AC duplex receptacle. A ¼-inch diameter tube frame protects the unit, which is powered by a Subaru 10-horsepower gasoline engine.
Visit EquipmentWorld.com/info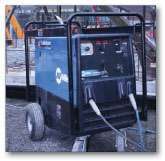 Environmentally Friendly
Miller introduced two environmentally friendly generators that reduce fuel consumption, emissions and operating costs while maintaining power. The Trailblazer 302 EFI and Bobcat 250 EFI are Electronic Fuel Injected (EFI) engine-driven twin-cylinder welder generators that easily start in all climates with no choke. Both units produce 12,000 watts of generator power. The Trailblazer welds 280 amps at 100-percent duty cycle, and the Bobcat welds 250 amps at 100-percent duty cycle.
Visit EquipmentWorld.com/info