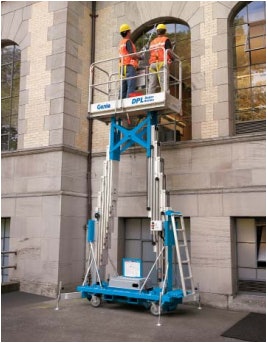 Terex Aerial Work Platforms' new Lift Pro online-based training is designed to accommodate the different learning curves of individuals, says Jeff Waldo, director of marketing.
"It's interactive, and can be stopped and resumed at any time," Waldo says, indicating the total online training segment takes three hours. After the online training is complete, trainees take a hands-on familiarization test to show their proficiency, either at an authorized dealer's site or perhaps a jobsite.
After completing both segments, the trainee will have met the requirements to become a certified aerial work platform operator, in accordance with American National Standards Institute, OSHA and the Canadian Standards Association standards, Genie says.
"The machine familiarization test helps ensure that the online training portion will be hard to fake, since it will become apparent whether a person has taken the training or not," Waldo says.
The training covers four types of aerial lifts and is applicable to most makes and models. It will be available for a fee at authorized Lift Pro Training Centers — including equipment dealers, rental dealers and end users who meet the training criteria — throughout North America.
Users will be required to successfully answer a 30-question exam at the end of the online training. Any incorrect answers, and participants will be directed back to the training to search for the correct answer.
"Our number one priority is to help make the industry safer by making it easier to train operators," Waldo says.
Contact your local Genie dealer for more information on these online courses.