Non-profit organizations working with an Association of Equipment Manufacturers member or one of its dealers are eligible to apply for one of five $10,000 AEM grants to further equipment industry workforce development.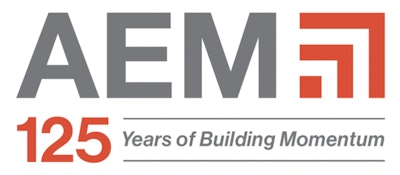 AEM says the award gives its members a chance to "give back to some of those who have helped the industry grow into what it is today." The grant recognizes an organization for work aimed at growing the equipment industry workforce.
Those eligible for an AEM Next Gen Grant Program award include 501(c)(3) organizations that:
Are partnered with an AEM member and/or its dealer in a K-12 outreach program (or has plans to do so).
Have an existing relationship with an educational organization.
Are engaged in outreach at the national, state and/or local levels.
Each application must be accompanied by a nominating letter from an AEM-member company and/or its dealer. In addition, AEM members and/or their dealers can nominate an organization outright.
The grants are part of AEM's 125thanniversary year celebration.