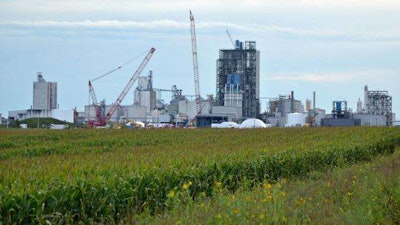 An Iowa biofuel plant is the latest major construction project to fall victim to the widespread shortage of skilled workers in the U.S.
According to a report from the Ames Tribune, DuPont has delayed the completion date of a cellulosic ethanol plant the company is building in the city of Nevada, Iowa.
The $200 million plant, which will produce up to 30 million gallons of corn-stover derived cellulosic ethanal each year, was originally expected to be operational by the end of 2014, the paper reports.
However, LaVon Schiltz, executive director of the Nevada Economic Development Council, tells the Tribune that Granite, Minnesota-based contractor Fagen Inc. has had trouble "getting enough of all the different types of construction workers, which are pretty high-tech construction-type workers that travel all over the United States."
Specifically, Fagen hasn't been able to find enough pipefitters and millwrights, the paper reports. With much of the pipe work at the plant yet to be completed, the expected completion date has been postponed to some time in March.
In August, a survey conducted by the Associated General Contractors of America and SmartBrief found 83 percent of U.S. contractors are struggling to find enough skilled workers. Of those that said they are having trouble filling these skilled positions, nearly half said they couldn't find enough pipefitters/welders.