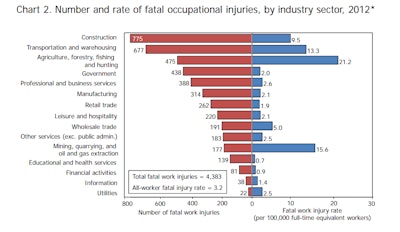 With 775 fatal injuries in 2012, private construction rose to the top of all U.S. industries in the number of workplace deaths, according to preliminary data from the Bureau of Labor Statistics.
Deaths in the construction industry were up 5 percent from 2011—the first increase after five consecutive years of declines. Since 2006, construction deaths are still down 37 percent.
In 2011, construction was second to transportation and warehousing in fatal injuries. In 2012, transportation and warehousing fell behind construction with 677 deaths.
It should be noted that the total number of hours worked in private construction increased by 1 percent in 2012.
Even with the increase in deaths, private construction remains the fourth most dangerous profession with 9.5 deaths per 100,000 full-time workers. That number is up from 8.9 in 2011. Agriculture, forestry,fishing and hunting comprise the most dangerous industry with 21.2 deaths per 100,000, followed by mining, quarrying, and oil and gas extraction at 15.6 and transportation and warehousing at 13.3.
Construction accounted for 17.6 percent of the 4,383 total workplace deaths in the U.S. in 2012. That total of U.S. workplace deaths is down 6 percent from 2011 while the death rate per 100,000 of 3.2 is down from 3.5 in 2011.