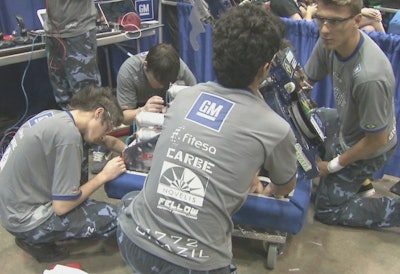 What do you do with kids who think math and science are boring?
Give them a pile of parts, some software and computers, and let them build a robot.
That in a nutshell is the FIRST Competition, a nationwide program put together by General Motors that's meant to fire up the imaginations of kids and advance the learning of math, science and engineering in our schools.
And these are no ordinary robots. Kids as young as six- to eight-years-old start with a Lego robotics program and build a computer-controlled robot that prowls a 4-foot by 8-foot field performing up to 18 tasks, says Tim Grewe, GM's Electrification chief engineer and director of the FIRST program at GM.
[youtube N-7SDJ4Ab58 nolink]
"As the kids move up to the high school level," Grewe says, "the robots get a lot stronger and a lot bigger—120 pounds—and they do different tasks and compete against other teams."
This year, for example, the top level robots were required to pick up frisbees, sort them and hit targets as far away as 60 feet.
The FIRST program is supported by a wide range of companies including 3M, Boeing, Rockwell Automation, Microsoft, FedEX, Motorola and others. The 2012-2013 FIRST season attracted more than 300,000 kids and 120,000 mentors, coaches and volunteers from some 70 countries.
"This is a partnership between industry and these students," Grewe says. GM will directly sponsor 70 teams and support more than 600 this year and has to date sponsored 10,000 students. About 300 of those students are now working for GM, he says.
The only qualification for kids who want to enter the program is interest, Grewe says. "You just have to want to get into it, to build on that enthusiasm. We'll provide you with everything you need. You'll learn along the way and have a great time doing it."
As for adults, anybody can get involved with the league, Grewe says. All the training materials are online and free, and National Instruments puts on weekend seminars to help prepare adults to coach their student teams.
Follow-up studies have tracked the progress of students who go through the program and show that 90 percent of them go on to college. What's more, participating students are more than twice as likely to go into a science or technology career.
There are three levels to the program: the Junior FIRST Lego League (ages 6 to 9), the FIRST Lego League (ages 9 to 16),  and two high-school level programs, the FIRST Tech Challenge and the FIRST Robotics Competition.
"We call it a sport and you get a varsity letter for it in most high schools," Grewe says.  The difference between the FIRST Competition and other sports is that you don't win at the expense of others, he says.
"One of the core values is you treat everybody in a gracious way, as a professional," he says. "One of the teams I worked on was in the championship round when one of their competitor's robots had a problem. Our team helped them fix their robot. They didn't want to win because the other robot failed. They wanted to win because they had a better robot when both were up to speed."