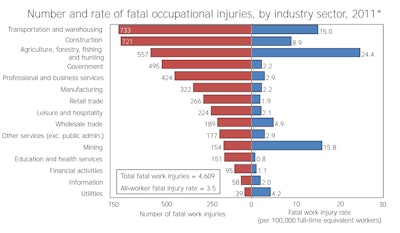 There's a reason we recognize attention to good safety practices with a separate award each year as part of our Contractor of the Year program. Look no further than the most recent numbers on industry death rates from the Bureau of Labor Statistics.
According the BLS chartbook, the private construction industry has the fourth-highest fatal work injury rate in the U.S. and the second-highest amount of fatal injuries.
The most recent data is from 2011 and shows that construction had a fatal work injury rate of 8.9 deaths per 100,000 full-time workers. In total, 721 construction workers died on the job in 2011, according to the data.
It was in 2011 that construction fell behind transportation and warehousing in total number of deaths. The transportation industry saw 733 deaths in 2011, giving credence to the notion that one of the most dangerous things we do on a daily basis is drive.
The death rate, however, is the best way to measure how dangerous these industries are. Topping the list as the most dangerous type of job was the agriculture, forestry, fishing and hunting industry's 24.4 deaths per 100,000 workers in 2011. No. 2 was mining with a rate of 15.8, followed by transportation and warehousing at no. 3 with a rate of 15.