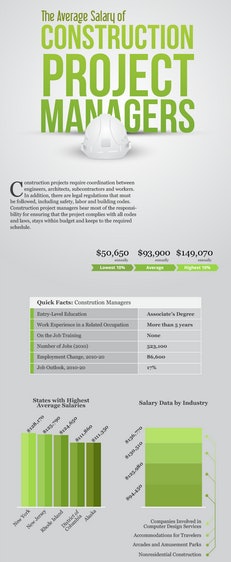 The folks over at Same Day Steel have put together an interesting infographic examining the salary of construction project managers.
As the infographic lays out, project managers have more than a few responsibilities on the jobsite, including making sure that all safety and labor regulations are being met in addition to building codes.
And that's not to mention making sure everything remains on time and on budget.
According to the infographic, the average salary for construction project managers is $93,900. As of 2010, there were 532,100 jobs for construction managers and the job outlook through 2020 was 17 percent.
It takes a bit of education and considerable experience to snag one of these jobs. According to the infographic, you'll at least need an associate's degree and five years of experience.
To check out more data including the states with the highest average construction project manager salaries and the data broken down by industry, click the image to the right to see a large version of the infrographic.