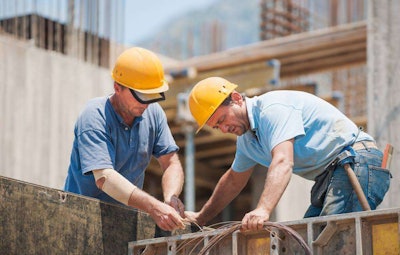 The construction industry added 7,000 jobs in May to reach its highest total of workers in nearly four years, according to data from the U.S. Bureau of Labor Statistics.
Preliminary data from the BLS showed that the industry lost 6,000 jobs in April. But a revision reduced that loss to 2,000, meaning if May's gains hold up, the industry is at least 5,000 jobs stronger.
The total number of Americans employed in construction is now more than 5.8 million, the highest total since August 2009.
More good news, the industry's unemployment rate saw a big dip, falling from 13.2 percent to 10.8 percent in May. That's the lowest unemployment rate the industry has seen since September 2008.
May's numbers are certainly reassuring after April's small dip worried many over whether or not effects from sequestration and recent decreases in government spending on construction would lead to more industry job losses over the course of the summer.
As many economists have warned, construction is not quite out of the woods. But it's clear that despite the shortage of skilled labor being seen by contractors across the country, the huge boost in demand is leading to more, if only small gains in, employment.
As for the country as a whole, U.S. employers added 175,000 jobs in May. The unemployment rate rose to 7.6 percent due to the fact that more Americans are now actively seeking jobs due to better prospects.