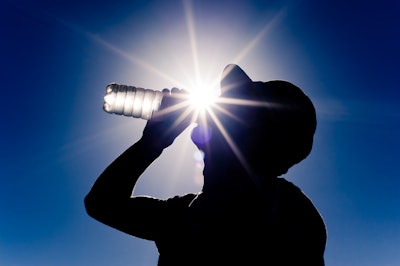 The Occupational Safety and Health Administration has announced that tomorrow, Tuesday June 4, it will hold one-hour safety stand downs on beating back the Southern summer heat at construction sites and workplaces throughout the Southeastern United States.
Workers will stop work for the stand-downs between 7 and 8 a.m. Tuesday to conduct safety training focused on the symptoms of heat-related illnesses and preventative steps to take while working in the South's hot summers.
Ttrade associations and employers throughout Georgia, Alabama, Kentucky, Mississippi, North Carolina, South Carolina and Tennessee are joining with OSHA on the effort.
Those who wish to register for the stand-down event can do so at the website for the Associated General Contractors of America Georgia by clicking here.
OSHA figures show that each year thousands of workers across the country suffer from serious heat-related illnesses. "If not quickly addressed, heat exhaustion can become heat stroke, which has killed—on average—more than 30 workers annually since 2003," according to the OSHA announcement.
OSHA warns that working in hot weather can raise body temperatures beyond the level that normally can be cooled by sweating. Early signs of heat illnesses are heat rash and heat cramps. However, these symptoms can quickly lead to heat exhaustion and then heat stroke if a few simple prevention steps are not followed.
In preparation for summer, OSHA developed a wealth of heat illness educational materials in both English and Spanish, as well as a curriculum to be used for workplace training. You can also visit the OSHA heat illness website which provides information on how to prevent heat illness and what workers and employers should do in an emergency.
And yes, there's even an app for heat-related illness prevention. Available for the iPhone, Android devices and Blackberry, the app "displays a risk level for workers based on the heat index, as well as reminders about protective measures that should be taken at that risk level. You can download the app by clicking here.