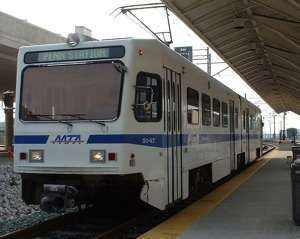 Two Baltimore light rail projects are expected to create nearly 7,000 construction jobs in the area and state officials are rushing to prepare the state's workforce.
The Baltimore Purple and Red Line light rail systems, estimated to cost $2.15 billion and $2.5 billion respectively, will create jobs for "equipment operators, electricians, cement and brickmasons, carpenters and ironworkers," reports the Baltimore Business Journal. The Red Line will connect East and West Baltimore while the Purple Line will run through Prince George's and Montgomery counties.
And to ensure that mass of jobs is filled, the Maryland Transit Administration and the Maryland Department of Labor, Licensing and Regulation announced that they will work with contractors, unions, local workforce development agencies and others to seek out and train workers.
Part of the plan is an outreach program to ensure that those in need of work in the state are aware of the opportunity.
Unfortunately, funding for the projects is unclear. Maryland Gov. Martin O'Malley recently unveiled a plan to generate $3.4 billion for state highway and transit projects in the next five years. The plan, would initiate a 2-percent motor fuels tax rate on the retail prices of those fuels. The tax would begin July 4 and increase to 4 percent by 2014 and to 6 percent in 2015. Wholesale gas prices would also be included in the tax. Some of that money would go toward funding the Purple Line.
The bill got its first public hearing March 15 where it was met with a great deal of skepticism—outrage in a few cases—from both elected officials and business owners.