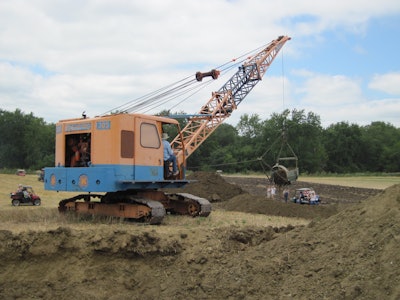 Editor's note: Collector's Corner is an ongoing series of articles by Equipment World in which collectors of antique construction equipment and construction models talk about their favorite finds. If you've got a special piece of vintage equipment or a model you'd like featured, email Don McLoud at DonMcLoud@randallreily.com.
---
Jim Carter found his favorite piece of antique construction equipment while driving home from work.
"I took a route that I normally don't take," recalls the now-retired nuclear-medicine technologist from Zionsville, Indiana.
"I see this machine sitting in this parking lot, and I thought, 'Oh, they're getting ready to tear down the old strip mall.'"
But as he looked closer, he saw a tiny for-sale sign stuck in the window of the 1968 Koehring 305 lattice-boom crawler crane. The owner had bought it along with five rough-terrain hydraulic cranes to sell. The hydraulic cranes sold quickly, but the old friction Koehring stayed put.
Ready to get rid of the crane that OSHA regulations and hydraulics had made obsolete, the owner offered it to Carter for the same price he had paid for it. "They basically just sold it for pennies on the dollar, which is how almost all of my machinery has been had," he says.
His collection focuses mainly on revolving shovel machines of the 1960s and 1970s. Most are Insleys, which were manufactured near where he grew up in Indianapolis in the 1950s. He also has some military equipment, including a 1972 Marine Corps' Case 1150 track loader. He keeps them in working condition, though he much prefers operating them.
Carter, who is 71, runs the ¾-cubic-yard Koehring with a clam shell. It took some time to get the hang of it after buying it in the mid-1990s.
"We're dealing strictly with clutches and brakes," he says.
After engaging a master clutch, the engine starts, and the gears start spinning. Two brake pedals are for the two winches. Hand levers engage the clutches for sending power to the winches. Another lever controls left and right swing.
Operators of hydraulic equipment can find the old Koehring disconcerting. He recalls one incident at an antique equipment show when he let an operator used to hydraulic machines give it a whirl:
"So he got in the operator's seat, and he pulled the lever and the dipper went up. He let go of the lever, and everything came crashing down into the pile. Spun the winches, the cables flew everywhere.
"He thought when he let go of the lever, everything was going to stop. He didn't realize he had to have his foot on the brake."
Fixing up and operating the old machines has made Carter appreciate the operators of yesteryear.
"I'm just in awe of the people who went before me."
And that's one reason he likes collecting the old machines.
"If somebody doesn't save the history," he says, "you tend to forget where you came from – and that's a tragedy."
The other reason for collecting:
"I just really get a kick out of running this machinery."
Editor's note: If you've got a special piece of vintage equipment or a model you'd like featured in our Collector's Corner series, email Don McLoud at DonMcLoud@randallreilly.com.
Gallery of vintage equipment
For some more views of Carter's antique collection, which he keeps in running condition: