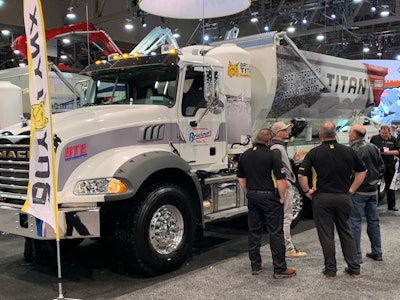 Bay Lynx introduced a new volumetric concrete mixer Tuesday at the World of Concrete in Las Vegas.
The Bay Lynx Titan is built from Hardox 450 steel that is four times stronger than traditional steel. The harder surface of the steel resists cracking and stands up better to abrasive material.
According to the company it lasts twice as long as conventional steel. Hardox is also lighter than conventional steel allowing you to carry 1,200 additional pounds of mix.
Along with the Hardox steel body, the Bay Lynx Titan features the company's BatchPro Connect system which communicates with the truck to automate the gates, admix, cement and water. Using GPS tracking the system also manages dispatch functions, sends out daily assignments to drivers and receives orders.
Built on a Mack Granite platform the Bay Lynx Titan also takes advantage of Mack's Guard Dog Connect. This telematics system ensures that the truck is always being monitored in Mack's uptime center by a real time person and can provide over the air updates, software flashes and maintenance diagnostics.