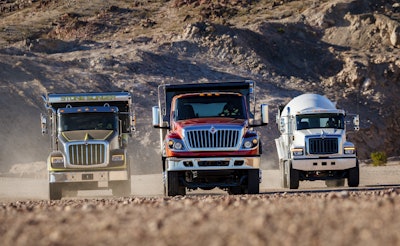 In a move that sent the stock price of International Trucks parent company Navistar soaring in after-hours trading, the global truck unit of Volkswagen has made an unsolicited cash offer to buy Navistar International Corporation for $35 a share.
Navistar confirmed in a statement that the offer has been made and that it has yet to decide whether to accept it. The company says its Board of Directors "will carefully review and evaluate the proposal in the context of Navistar's strategic plan for the company in order to determine the course of action that it believes is in the best interest of the company and its stakeholders."
Traton Chief Executive Officer Andreas Renschler said the two companies have have benefitted from a nearly three-year-old strategic alliance, and said he believes the proposed transaction is a logical next step resulting in even greater benefits.
"Over the past three years, we have benefitted from a highly collaborative and productive strategic alliance with Navistar," he said via provided statement. "As the market continues to evolve, we believe there are compelling strategic and financial benefits to a full combination of Traton and Navistar. The proposed transaction would create a leader in commercial vehicles with global scale and a strong portfolio of leading brands and cutting-edge products, technologies and services while delivering immediate and substantial value to Navistar stockholders."
The deal would be worth around $2.9 billion. Shares of Navistar on the New York Stock Exchange closed at $24 Thursday, but jumped to $37 a share in after-hours trading when the news broke.
Navistar traded near $35 per share for much of 2019 but has slid steadily since Christmas. Its current $2.39 billion market cap is on par with the close of 2018, when truck orders reached record heights industry-wide.
Details are still scant on the offer and what it would mean for International's truck lineup and for Navistar's heavy-duty engines.
Volkswagen's global trucks business, Traton, already owns 17 percent of Navistar International, a deal closed in 2017 when Volkswagen paid $256 million for that ownership stake.
Navistar just this month received court approval to settle for $135 million a lingering class-action lawsuit over its now-defunct line of MaxxForce engines. Likewise, a Canadian judge just approved a nearly $150 million fine against Volkswagen AG after the company pleaded guilty to charges in its emissions cheating scandal uncovered in 2015.