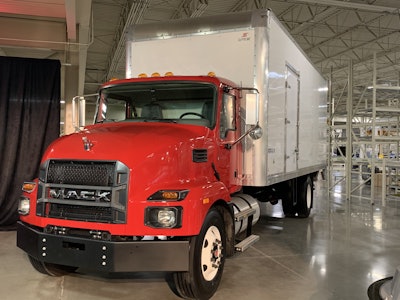 Mack's new medium duty entries – the Class 6 MD6 and Class 7 MD7 – unlocks new over the road segments for the truck maker.
The Mack MD6 has a Gross Vehicle Weight Rating (GVWR) of 25,995 pounds, and the MD7 model has a GVWR of 33,000 pounds. Both are exempt from the 12% Federal Excise Tax (FET).
Serial production of the trucks is set to begin this summer and the company is already taking orders.
The MD lineup becomes the first automotive project in the State of Virginia to go from prototype to production, and targets trucking applications in dry van and refrigerated segments, and stake/flatbed, dump and tank truck vocations.
The exterior is stylized similarly to Mack's on-highway champion, Anthem and will be made available in a 4×2 configuration. Mack says both models will feature a sharp wheel cut for urban maneuverability and noted the MD Series cab design features a short, industry-leading, 103-inch bumper-to-back-of-cab (BBC) measurement.
The MD models are Mack's first all-new truck model since the 2017 debut of Anthem. It's also the first truck outside of refuse models to offer a non-Mack powertrain. Both MD models are equipped with a Cummins B6.7 liter engine, making 300 hp and 660 lb.-ft of torque, and matched with an Allison 2500HS transmission and Meritor axles.
Mack exited the medium duty segment in the early 2000s shortly after the debut of the Mack Freedom – more reborn Renault than Born Ready Mack. The Freedom concluded Mack's 20-plus year run with its Mid-Liner, and shelving the model in 2003 put Mack all-in on Class 8.
Jonathan Randall, Mack Trucks senior vice president of North American sales and marketing, said the company's dealer network has been pushing for a return to medium duty, and market stabilization and growth in the segment created a perfect storm of opportunity.
"It's traditionally a pretty steady 90,000 to 100,000 trucks in the U.S. and Canada," he said, noting medium duty sales seldom swing as wildly as Class 8.
The MD's chassis are durable, yet lightweight (7mm thickness for the MD6 and 8mm thickness for the MD7) and are constructed to an industry standard 34-inch width using 120k psi steel frame rails.
The MD cab features an industry-best 103-inch BBC, clear back of cab, an air-suspended cab and a standard rear window.
The air-suspended cab, said Mack's Director of Product Strategy Roy Horton, improves driver comfort and vehicle durability. Reduced step-up height improves ergonomics and multiple grab handles and a short hood for improved downward visibility increases safety.
The outside is all MD but the inside is Mack-inspired. Plenty of hints of Mack's on-highway Anthem are obvious when the doors swing open. A wrap-around dash with ergonomic controls; a tilt telescopic steering column with flat-bottomed steering wheel; power windows and door locks; cruise control and a driver air-ride seat are all regular long-haul driver comforts.
The use of so many interior elements from its long haul truck, including door panels, Horton said gave the MD models an unexpected side benefit "of a very quiet cab."
Available in a 4×2 configuration, eight wheelbase lengths are available which will support typical bodies from 10-26 feet.
The MD Model will be built in Mack's new 280,000 square foot facility Roanoke Valley Operations in Salem, Virginia. Production is set to kickoff in July. The truck is available for order now.