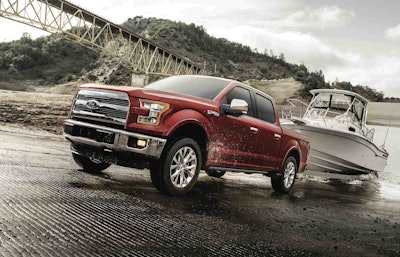 As part of a $4.5 billion investment in the production of electric vehicles by 2020, Ford on Tuesday announced that it will introduce a hybrid drivetrain option for its F-150 pickup truck.
Though rumors have been swirling the last couple of years around the possibility of a diesel-powered F-150, Ford has repeatedly said it would instead focus its fuel efficiency efforts around its gas-powered V6 EcoBoost engines. The 2.7-liter EcoBoost provides an EPA estimate 21 miles per gallon combined (19 city/25 highway), while the 3.5-liter version provides 20 mpg (17 city/24 highway).
Apart from offering "powerful towing and payload capacity," Ford shared few details on the upcoming hybrid F-150 outside of the facts that it would be built at its Dearborn (Michigan) Truck Plant and that it would be available by 2020. It's unclear what kind of gas mileage this new truck will get or what type of fuel will complement the electric power.
However, Ford did add this juicy tidbit: similar to Chevy's fuel-cell powered Colorado ZH2, the hybrid F-150 will include a mobile generator. "Of course, it will have increased capability but what's really cool is that by electrifying it, it can double as a mobile generator capable enough to power a worksite," said Ford president and CEO Mark Fields.
The hybrid F-150 is one of 13 new electric vehicles Ford will introduce by 2020 including a hybrid Mustang with V8 power and "more low-end torque," a plug-in electric Transit Custom van, two new hybrid police vehicles, a new fully-electric small SUV with 300-mile range, and a new autonomous hybrid vehicle designed for commercial ride hailing or sharing services in North America.
Another interesting element to the announcement of this new focus on electric and autonomous vehicles is the fact that Ford says it has scrapped plans to build a $1.6 billion plant in Mexico and will instead invest $700 million in expanding its plant in Flat Rock, Michigan, to handle the production of the bulk of these new vehicles.
The move will generate 700 new jobs at Flat Rock.
"As more and more consumers around the world become interested in electrified vehicles, Ford is committed to being a leader in providing consumers with a broad range of electrified vehicles, services and solutions that make people's lives better," said Fields in a statement. "Our investments and expanding lineup reflect our view that global offerings of electrified vehicles will exceed gasoline-powered vehicles within the next 15 years."