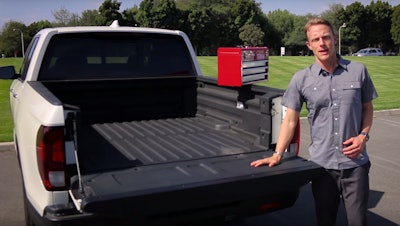 This could very well be the summer of truck bed challenges.
Following the success of its recent composite truck bed test, Honda has posted another video in which the automaker performs a tool box drop test in the back of its 2017 Honda Ridgeline.
Using the same no-frills approach from its first video, an unidentified Honda spokesman pushes a 26-pound tool box from the top of the bed wall onto the bed floor.
"As you can see there's very minor if any damage at all to the truck. Actually, probably a little bit more damage on the tool box," the spokesman says.
It appears that there's a small mark on the composite bed where the corner of the box makes contact, but it's hard to discern much more than that.
The same test performed in a video released last month by Chevrolet, dented the steel bed of a 2016 Silverado and punctured the aluminum bed of a 2016 F-150. Chevrolet reports in that video the tool box is empty, while Honda states that its box has tools and weighs in at 26 pounds.
Honda's videos undoubtedly have the lowest production costs. Just like its landscape block test, its tool box challenge was shot in a parking lot. One camera catches all the action in about a minute with one take.
To date, Honda's block drop test, posted three weeks ago, has had nearly 427,000 views. The tool box drop video was posted about a week later and as of Wednesday night had 33,017 views.
Ford's Bed Meets Rock video has netted nearly 90,000 views since debuting about a year ago.
Chevrolet's "Silverado Strong" bed test video has had roughly 4.8 million views since being posted about a month ago.