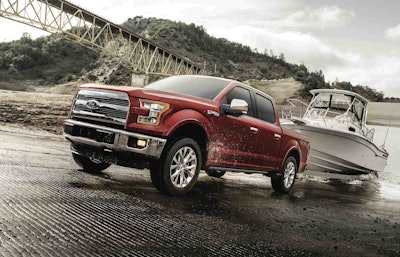 After announcing specs for the second generation 3.5-liter engine back in May, Ford has updated those specs, announcing that its EcoBoost V6 has even higher torque and horsepower figures than previously thought.
Ford previously expected horsepower to remain the same from the first generation 3.5L EcoBoost while estimating a 30 lb.-ft. boost in torque, 365 hp and 450 lb.-ft., respectively.
However, more recent measurements place those specs at 375 hp and 470 lb.-ft. of torque.
The torque figure is an improvement of 50 lb.-ft. over the previous generation 3.5L EcoBoost and will be a segment-best, topping all diesel and gas engines, including V8s with nearly twice the displacement.
According to Raj Nair, Ford's executive vice president of product development and the company's chief technical officer, says the torque boost comes from Ford's new 10-speed automatic transmission, adding that the new transmission "improves nearly every aspect of F-150 performance."
The new engine, Ford says, provides better low-end and peak engine performance for hauling heavy payloads and towing heavy trailers.