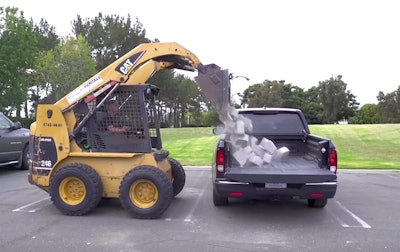 Honda has stepped up to the truck bed challenge by dumping 800 pounds of concrete blocks into the pickup bed of its 2017 Ridgeline.
Though only one load was dropped from a height of roughly four feet, the Ridgeline's composite bed appears to have held up better than the steel or aluminum beds subjected to similar challenges by Chevrolet and Ford.
In a roughly two-minute, no-frills video posted by Honda on YouTube (see below), the automaker uses a rented skid-steer loader to drop 60 rough-cut landscaping blocks into the bed of a Ridgeline pickup.
"There's been some activity on the internet just in the last couple of days. Some manufacturers showing how their truck beds are standing up, or not standing up, to rocks falling in the back of them," Brad Nelson, a spokesman for Honda North America says at the start of the video.
"Well, we'd like to show you how the new Ridgeline handles that with its standard composite bed."
The Ridgeline bounces slightly as the stones strike the bed. At least three different camera angles capture the impact. Honda staff then remove the blocks and sweep the bed before making an inspection.
A steady shot of the matte black bed combined with various close-ups reveal hardly anything more than particles of concrete and dust. According to Nelson, there are some scratches, however they can't clearly be seen in the video.
"So as you can see, there is virtually no damage to the bed. There are some scratches that you can really barely see because the composite bed hides them so well. It's black all the way through the thickness of the material," Nelson explains.
Chevy recently released two videos and data on puncture tests it conducted on 2016 Silverado and 2016 F-150 pickups. Throughout several drops involving landscape blocks and tool boxes, the aluminum beds of 12 F-150s ended up with 68 holes, while a dozen steel Silverado beds ended up with two. Dents and scratches could also be seen in the truck beds, none of which had bed liners.
Ford tested the aluminum bed of its F-150 with 51 loads of masonry stone that amounted to an average of 1,960 pounds per load. Ford reported in its video that the bed, which had been covered by a spray-on liner, held up well and had no punctures.