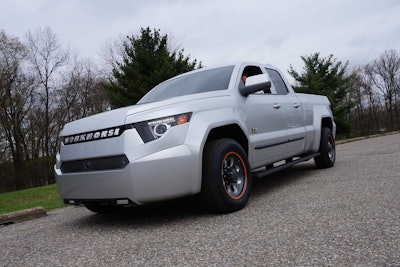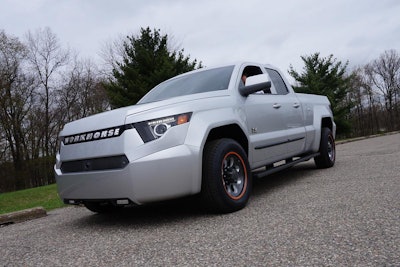 Workhorse recently unveiled the W-15, a plug-in electric range-extended pickup aimed at fleets. The 460-horsepower truck features a carbon fiber body, gets about 80 miles on average through battery power, and another 300 miles after switching to its three-cylinder BMW I3 gas engine.
After getting most of the primary details out of the way in our original report, like the truck's $52,500 price tag and promise to cut total cost of ownership in half over traditional feels pickups, we had a chance to do a Q&A with the company to cover further details on the truck. Here's what we learned:
What are the available body colors for the truck?
Workhorse: The W-15 concept vehicle features an eye-catching silver-metallic body color that accentuates all the body lines on the vehicle. Other body-color options are yet to be determined, but we intend to follow trends in the market and listen to the demands of our customers.
Warranty on the batteries?
Workhorse: We use lithium-ion batteries by Panasonic, which are the same batteries used in Tesla vehicles. These batteries have a lifespan that's measured in charge cycles, but capping the batteries' drain amount at 90 percent, as we do in the W-15, extends the battery' lifespan significantly. A recent report in Green Car Reports says the average Tesla Model S, for example, retains around 92 percent of its battery life at 100,000 miles.
Our warranty offerings and battery replacement policy are yet to be determined. We expect to have these answers closer to the W-15 production date in the fourth-quarter of 2018. In general, electric vehicle OEMs don't offer lifetime warranties on batteries but instead offer trade-in credits, as Nissan does with the Leaf.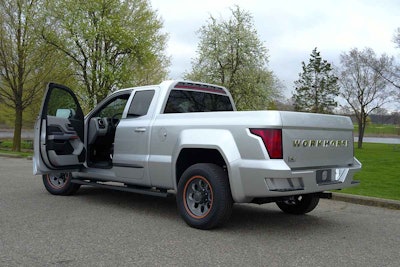 Curb weight?
Workhorse: GVW (gross vehicle weight) of 7,200 lbs. The truck also qualifies for the $7,500 tax credit
Any concerns that the Trump administration will diminish or even nix electric vehicle tax credits?
Workhorse: Although we can't predict what actions the Trump administration will take, one thing we do know is that demand for fuel efficient, environmentally friendly and cost-effective vehicles isn't going anywhere. Right now, battery-powered electric vehicles make sense from a total cost-of-ownership perspective. Lower fuel and maintenance costs mean electric trucks will be attractive to commercial or consumer markets. The advantages of environmentally friendly transportation are also compelling to vehicle consumers. Workhorse is committed to building the best vehicles, period, and so long as demand exists for efficient, environmentally friendly and cost-effective transportation, demand will exist for Workhorse vehicles.
Since utility companies are lining up for the W-15, does Workhorse have any future plans to offer a lift bucket option?
Workhorse: The current W-15 prototype comes in one body style with a short bed. This standard pickup truck design is based on the current demand of the fleet market we're targeting. Depending on future consumer demand and the economic feasibility of developing other body styles, including a lift-bucket option, we'll remain flexible and assess those opportunities as they come.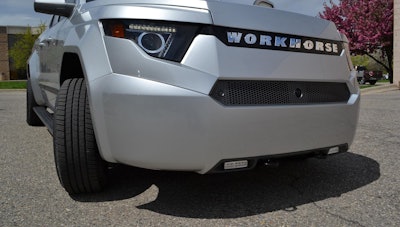 Can the W-15 be purchased as a cab-chassis option? If not now, perhaps in the future?
Workhorse: The W-15 prototype features a double cab and short bed. As of now, we expect to take this body style to production first, but we're open to further alterations to the body style, including making a cab-only model, based on customer demand and feasibility from a pricing perspective.
One of the advantages of the W-15 design is that its current trim level was designed to incorporate the performance and essential utility and safety features of higher-end trim levels but at the price point of an entry-level trim. We found that fleet managers wanted the safety and performance of high-level trims, but couldn't get it because the other luxury features made the price point too high.
How has the truck performed during hauling and towing tests?
Workhorse: The W-15 has a 2,200-pound payload capacity and 5,000-pound towing capacity. The vehicle's two electric motors can produce more torque than some diesel V8 engines, and it has an all-wheel drivetrain (AWD), all of which contribute to its excellent towing and payload capabilities. The truck's towing capacity is comparable to what a truck with a V6 engine will provide, while the 460 horsepower of the W-15 gives it responsive acceleration, including a 0-60 mph time of 5.6 seconds. The overall performance capabilities on the W-15 make it a one-of-a-kind electric vehicle for the commercial or consumer market.