It was tough trying to catch a glimpse inside the nation's first OEM-produced plug-in range-extended electric pickup.
Moments after Workhorse unveiled its 460-horsepower W-15 truck in Long Beach, onlookers flocked to take a closer look.
And who can blame them? It's not every day that you see a new electric pickup, let alone one featuring a carbon fiber body built by auto design and engineering veterans at Michigan-based Prefix.
The W-15 is a head-turner. Just ask the people who kept on popping into the double cab to get their picture taken. It's got a large, assertive profile that takes you miles away from the tame, soft lines of the typically demure electric compact vehicle.
Designed to run on all-electric power first, the W-15 gets about 80 miles on average through battery power, before switching to its three-cylinder BMW I3 engine. The gas tank provides about 300 miles of range while in electric mode you can anticipate 75 MPGe. The gas engine is rated at 28 MPG highway and 32 city.
The truck also comes equipped with an external 7.2 kw power outlet that Workhorse says provides up to 30 amps from the truck's battery pack.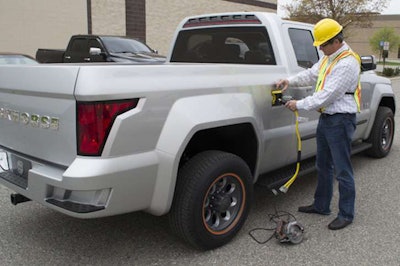 You have to shake your head a little and realize that two worlds have collided: the highly favored, gas guzzling pickup has met a low maintenance electric drive-train that offers 75 MPGe and will launch the all-wheel drive truck from zero to 60 in 5.5 seconds.
And it does it so quietly, which makes you think about its marketing potential among outdoor enthusiasts, many of whom who'd rather keep things quiet while riding in the woods on hunting, fishing, birding and camping trips.
But it's fleets first for the W-15.
Workhorse reported at the truck's unveiling that it has lined up over 5,000 letters of intent for purchasing with utilities like Duke Energy, Southern California Public Power Authority and Portland General Electric. The City of Orlando has also committed to buying the pickup, which will be manufactured in Union City, Indiana. That's up from 2,150 letters of intent in March.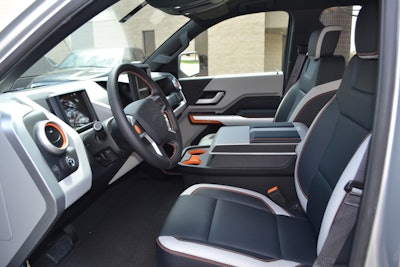 So let's do the math. With a competitive sticker price at $52,500, Workhorse can expect to see an impressive influx of $262,500,000 if those 5,000 letters of intent translate into sales. The first trucks for model year 2018 are expected to roll out next year.
The W-15 will face competition, though it has definitely staked out a decent head start. Tesla's promised electric pickup won't be unveiled for another 18 to 24 months from now, and though Ford plans to launch an F-150 with a hybrid powertrain, that truck likely won't be available until 2020.
Workhorse says the total cost of ownership of the W-15 is estimated to be about half that of a conventional pickup.
Payload capacity of the W-15 is rated at 2,200 pounds and towing at 5,000 pounds. Other features include collision avoidance/auto-braking and lane departure warning . The truck measures 234 inches long, 80 inches wide and about 74 inches high. It's got one foot of ground clearance.
We'll have more impressions of the W-15 in our test drive coming up next week, so stay tuned.