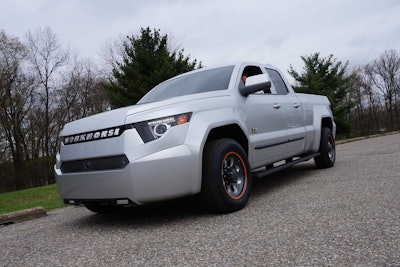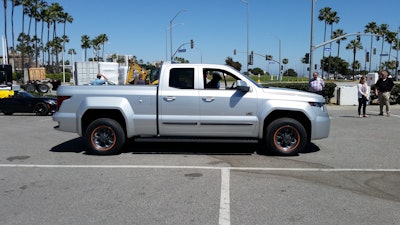 Driving the Workhorse W-15 is exciting. The acceleration of this new range-extended plug-in electric pickup truck is immediate and so quiet. I took it for a spin in a large parking lot behind the Long Beach Convention Center, shortly after its unveiling.
After turning the 460-horsepower truck on, a user-friendly display indicates speed, compass heading, miles (the odometer read only 96 miles when I was driving), battery charge level, range and fuel level.
Keep in mind that the W-15 is designed to run on all-electric power first, around 80 miles on average, before switching to its three-cylinder BMW I3 engine. Expect to drive roughly 300 miles on a tankful of gas. In electric mode, anticipate 75 MPGe. The engine is rated at 28 MPG highway and 32 city.
The engine bay is unique. A large, removable storage compartment is housed near the grill. The engine sits below a cover emblazoned with the Workhorse logo. Workhorse President Duane Hughes explained that the smaller engine allows for an extra large front crumple zone which is in step with the company's goal of making the W-15 the safest pickup on the road.
Panasonic lithium-ion batteries have been strategically placed for optimum weight distribution. The truck's low center of gravity makes for improved safety and handling.
The engine never came on while I was driving and I didn't expect it to since the battery gauge was showing a 75 percent charge.
On the last leg of our short route there was room for a quick acceleration test. I hit the accelerator from a dead standstill and the truck took off. Speed in a vehicle is so often associated with the roar of an engine. In this case, the W-15 speaks so softly but moves so fast and smooth. Again, a head-scratcher, but an intriguing one that you can quickly get accustomed to.
Though the W-15 is designed for fleets, the interior still has a high-tech, comfortable feel punctuated by bucket seats. Though it's built to accommodate five people, seating in the back doesn't allow for much leg room.
Payload capacity of the W-15 is rated at 2,200 pounds and towing at 5,000 pounds. For now, the bed is available only in a standard configuration. The electric lock on the tailgate is a slick feature. A little push on a button near the top of the tailgate releases it.
Other features include collision avoidance/auto-braking, lane departure warning and 7.2kW of exportable power. The truck measures 234 inches long, 80 inches wide and about 74 inches high. It's got a foot of ground clearance.
Hughes explained that the truck's performance characteristics can be adjusted for fleet needs.
"Based on the company and what they're using this for, they can configure through the software settings how they want that truck to perform," Hughes explained. "Our telematics software that we have with every vehicle—again this comes off of our pedigree of working with the likes of UPS in the medium-duty world—our telematics software collects roughly 500 points of data every 10 seconds and redisplays that data back in an end-user form in an online environment—on my phone, or on my iPad or other device that I'm looking at.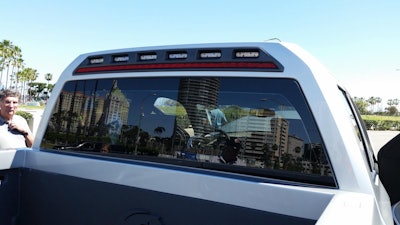 "It gives us topographical data, where the driver's foot is on the accelerator. Is he constantly going from one stop to another stop and giving 100 percent of what it's got?"
Whether it's a driver issue or something else impeding best possible performance, Workhorse says its telematics software will get to the bottom of it.
Workhorse recently announced that it entered an agreement with Ryder which will be selling, leasing and servicing the W-15.
Total cost of ownership of the W-15 is estimated to be about half that of a conventional pickup.
Of course I would have really liked to have taken the W-15 off-roading. Maybe next time.