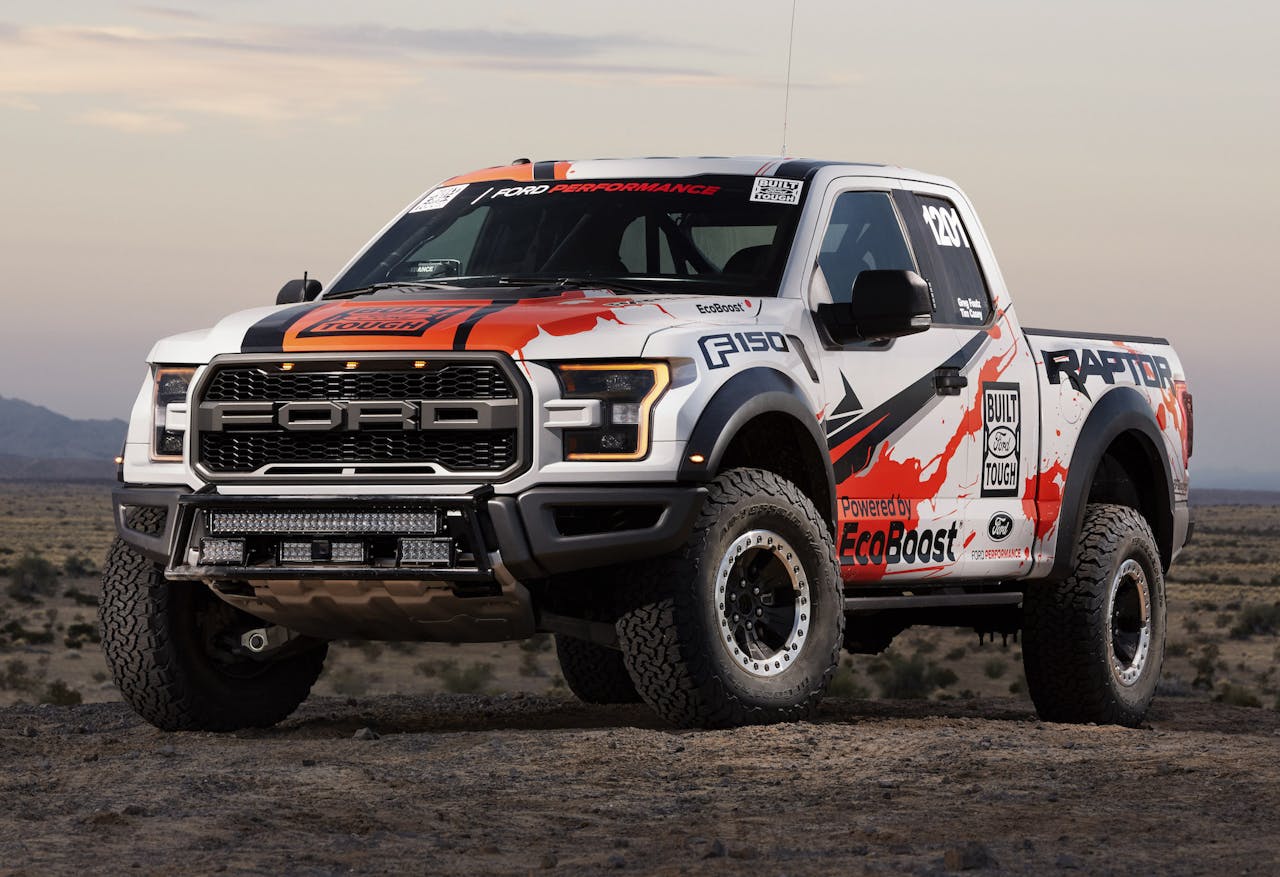 At the SEMA show, Ford is letting folks get up close and personal with the next-generation Raptor that will run one of the world's most grueling races.
At its mammoth booth inside the Las Vegas Convention Center, Ford is showing off the 2017 F-150 Raptor that will be entered in the 49th SCORE Baja 1000 off-road endurance race later this month. The gallery below offers some up close views of the truck as well as a peek inside.
The truck, which is powered by the Raptor's new, high-output 3.5-liter EcoBoost V6, will be driven by four-time Baja winner Greg Foutz in the stock full class competition. The new engine supplies 450 horsepower and 510 lb.-ft. of torque. As always, Ford engineers will study the truck's performance in the race to inform the design and engineering of future F-Series models.
Foutz Motorsports says it had to do very little to make the new Raptor Baja-ready. Aside from the truck's factory-spec springs and Fox Racing shocks being tweaked to handle a bit of added weight, most of the modifications to the truck were for safety. The team added a chromalloy steel safety cage, a puncture resistant fuel cell, racing seats, full race harness and LED lighting.
"The stock engine, transmission and powertrain calibrations are phenomenal," Foutz says of his Baja Raptor. "Suspension-wise, everything else—including its wheels and BFGoodrich K02 tires—is carried over from the 2017 production model."
In preparation for the Baja, Foutz has run the new Raptor in several Best in the Desert events in 2016, including the recent 645-mile General Tire Vegas to Reno race in August, which he completed in 15 hours.
Foutz also raced the first-generation Raptor at Baja in 2008 and says the 2017 model is a huge improvement. "There are an extra two inches of wheel travel, plus the all-new 10-speed transmission never has to hunt for the right gear," he says. "The new Baja mode keeps the turbo spooled up—it's miles better than the previous off-road mode."