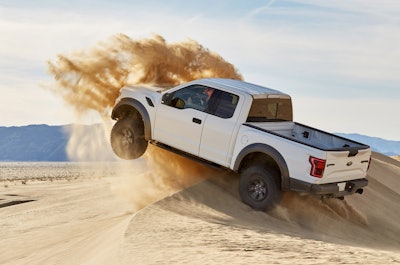 In the run-up to the fall release of the redesigned F-150 Raptor, Ford has released details of the truck's new shocks, developed with FOX suspension, along with a video demonstrating their capabilities.
Ford says these new shocks are larger than those found on the previous Raptor at 3 inches in diameter compared to 2.5. The added size gives the shocks 44 percent more volume, Ford says, for better heat dissipation and fade resistance. The new Raptor also benefits from a nearly 2-inch increase in overall suspension travel over the previous truck with 13-inch shocks at the front and 13.9-inch shocks at the rear.
They give the 2017 Raptor a more comfortable ride on the road thanks to the addition of a base valve piston that enables lower gas pressure. Here's the technical explanation from Ford spokesman Sam Schembari.
"The internal bypass in the front and rear shocks has nine distinct zones that progressively manage shock forces, allowing for smooth on-road trips along with hard-hitting off-road driving. The final zones act like hydraulic bump stops to send fluid through the top of the piston while the shock is fully compressed, preventing Raptor from bottoming out. With a larger-diameter outer body and internal piston, the new FOX shocks allow Raptor to handle harder impacts while reducing harshness to the driver."