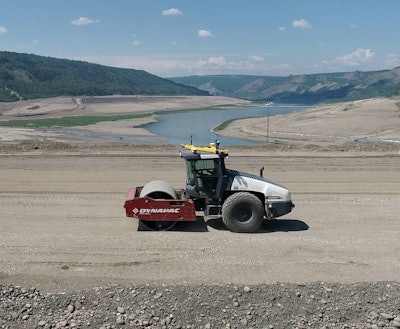 Trimble
A Dynapac CA 5000 soil compactor equipped with Trimble Earthworks Grade Control for Autonomous Compactors has completed 37 hours of real work on the Site C Clean Energy Project in British Columbia, Canada.
This marks one of the first public tests of a fully autonomous compactor on a working jobsite, according to Trimble, and another technological milestone for the company.
The autonomous compaction technology was previewed at Trimble's 2022 Dimensions user conference as an autonomous Dynapac CA 2500 worked alongside an autonomous Link-Belt 220 excavator and a remote-controlled Komatsu D51PX bulldozer.
At the Site C project, the autonomous CA 5000 operated alongside a mixed fleet of compactors, the rest of which were running the Trimble CC900 Compaction Control system. Data from all machines – both with and without an operator – was delivered using Trimble WorksOS Software, the system of record for all compaction data on the jobsite.
"The Site C project was the perfect place to begin live testing of the fully autonomous soil compactor because of the cost and safety benefits autonomy will bring to large infrastructure projects like this in the future, and because of the willingness of the project owner and contractor to use new technology on their jobsite," said Cameron Clark, earthmoving industry director for Trimble's civil infrastructure solutions. "We are pleased that this initial testing reinforces our philosophy that autonomous technology will play an important role in delivering a cheaper, faster, safer and greener future for the construction industry."
ACCIONA Infrastructure Canada Inc. and Samsung C&T Canada Ltd. are the prime contractors on the Site C project. The companies are building an earthfill dam, two diversion tunnels and a roller-compacted concrete foundation for the generating station and spillways. When complete, the dam will provide 1,100 megawatts of electricity each year, enough to power 450,000 homes or 1.7 million electric vehicles.
"Autonomy plays an important part in Samsung's vision of a more sustainable future, so it was thrilling to have a fully autonomous compactor being put to the test alongside our fleet of equipment with an operator on this project," said Yunki Kim, group leader of the Construction Automation Team at Samsung C&T.
Trimble says it will continue with extensive assisted testing through the rest of 2023 and into 2024 before making Trimble Earthworks for Autonomous Compaction available to select customers for beta testing.
"This is just the first step in what will be a diligent and careful testing process, but it's an important step and we are highly encouraged by the results," said Aaron Thompson, vice president, autonomous solutions, Trimble. "We look forward to fine tuning this technology as we move through testing, and to helping propel the industry forward as we work toward a more autonomous - and therefore more sustainable - future."