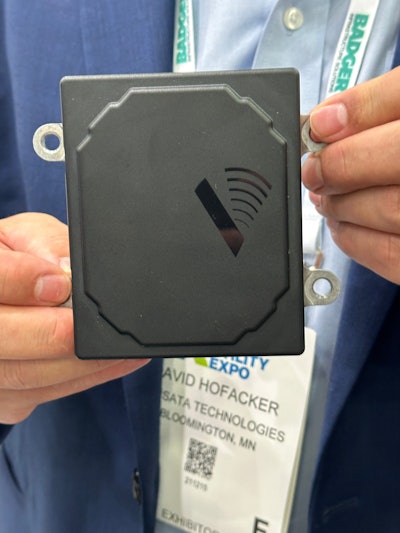 A next-generation take-off and reverse blind-spot monitoring radar designed to enhance driver awareness in on-road and off-road heavy vehicles and machines has been unveiled by Sensata Technologies.
PreView Sentry 79 builds on the company's PreView product family, using radar technology to detect objects in blind spots even in rain, fog, or snow.
"Sensata Technologies is dedicated to advancing safety through innovation, and the PreView Sentry 79 is a testament to our commitment," said David Hofacker, senior marketing manager at Sensata Technologies. "Blind-spot collisions remain a significant concern. We believe that the PreView Sentry 79 will save lives and protect property by providing drivers and operators with the critical information they need when they need it to prevent avoidable collisions and mitigate others."
It is the company's first product release on the new platform as the system moves from the 24-gigahertz space to the 77-81 GHz range, which is set globally for radio location devices. By moving the platform to the 79 GHz range and using the latest technology, Hofacker said, they were able to develop a product that is smaller, lighter, and more efficient than previous models.
Sentry 79 has a fully configurable detection zone, with the ability to detect objects from the face of the radar up to 131 feet, and the width of the detection zone is adjustable to fit most vehicle types.
The expansion of Sensata's PreView Radar product line is the result of over two decades of experience working with drivers, fleets, body builders, and OEMs to understand and deliver on requirements and preferences for radar-based collision mitigation solutions.
"We just keep continually building it out," Hofacker says.
The general information provided by radar sensors typically does not change. Hofacker said the difference with Sensata is that they control everything from product and control to manufacturing.
"By owning the hardware and software we get to build products that work the way they need to work," he said. "One of the things that we always do, and it's not just the radar side, we think about who the user of the information is. Our sensors create what I would call data and then to make it actionable, it must give them the information they need in that moment, to do what they need to do."
Designed to be easily integrated into a wide range of vehicles, the PreView Sentry 79 can be installed without extensive modifications or disruptions to existing systems. From a development standpoint, it is modular.
"Our customers have a lot of different types of equipment of various sizes and having a sensor that you can say they don't have to go through to redevelop anything or do any end-of-line calibration and just install it and walk away every single time is critical to being successful," Hofacker said.
Like nearly all Sensata's PreView product family, the Sentry 79 sensors use J 1939 Can communication, making it easy to tie into a variety of other systems like camera monitors, tire pressure sensors, or telematics systems.
"The primary user of the radar information is the driver to make real-time decisions about whether should I turn or should I not? Do I need to stop? Can I back up? Those are the kinds of decisions that we provide information for," Hofacker said.
He said the way radar works, is it sends out millimeter wave RF energy and looks for a reflection off different objects. Information provided by the sensor includes how far away the object is, the angle of that object, and the relative motion of the object.
The number of sensors on a typical vehicle depends on the environment the vehicle is being utilized in and how the machine is being used.
For example, a waste management truck typically will have four sensors installed, with one in front, one in back, and one on each side to monitor the blind spots while pulling back into traffic.
Meanwhile, on transport vehicles like a tractor trailer, typically sensors will be installed on the passenger side and the back as the areas that are more difficult to see.
"When you look at the off-highway space, it's hard to it's hard to go find a medium or large wheel loader that doesn't have an option to add a radar sensor," Hofacker said. "It's not standard but it's getting there."
Studies show that more than half the accidents at a construction site are related to blind spots.
OEMs that work with Sensata Technologies products on their machines include Hitachi, John Deere, and JLG.
The idea is the sensors collect data, turn it into information, and give it to the right people at the right time to make decisions and act based on that information.
"Each situation will be different, but we have solutions for all of them," Hofacker said.
Often, when placing an aftermarket radar sensor or even at the OEM factory, the intent is for it to go in the center of the rear bumper. That is no longer a concern with Sentry 79.
The new sensors offer customizable asymmetrical detection width for off-center mounting location options, a detection pattern segmented into five zones, and two customizable areas of detection to create an area where detections will not be reported. For example, ignoring protruding tires on a wheel loader while continuing to monitor the intended detection zone.
"I can define this area of interest according to not only my vehicle type and size, the scenarios and environment that the vehicle operates in but now also according to the mounting position that's available to me," Hofacker said.
Noting that radars provide distance, angle, and relative velocity, he said he can take that data or information and provide it to an operator in a variety of ways.
Hofacker pointed out that at the data level, there's a lot of work being done now on taking data from multiple sources and combining it to get better information.
"There's a lot of room left in in the technology," Hofacker said. "You think about the data and how you convert that information and how you deliver that information to the users. I'll still tell the driver, but I can take a lower level more detailed level of information and do other things with it."