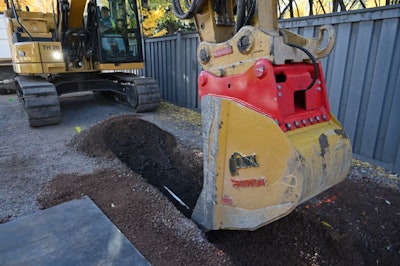 RodRadar
Construction's biggest startup competition has named its 2023 winners. They include two companies whose products have been featured on equipmentworld.com: RodRadar and Civ Robotics.
Now in its seventh year, the Construction Startup Competition searches for "the 'Builders of the Future' who are creating a more sustainable, efficient, on time, and innovative construction industry today." The competition is led by Cemex Ventures and its partners from Black & Veatch, Dysruptek by Haskell, Ferrovial, Hilti, VINCI Group's Leonard, NOVA by Saint-Gobain, Trimble, and Zacua Ventures.
Each of the eight winners falls under the competition's four market-driven verticals. The finalists will go on to compete for the gold, silver and bronze medals and – for the first time in the competition's history – cash prizes at Pitch Day 2023, held at Trimble's Dimensions User Conference on November 7 in Las Vegas.
Green Construction Winners (Sustainable)
Firstplanit (United Kingdom) – Designed to incorporate sustainability into every building production decision, Firstplanit provides architects, engineers, developers, and manufacturers with insights on the environmental, social, health, and monetary benefits of building materials and products through a data-driven, user-friendly digital platform.
Vizcab (France) – Vizcab is a software-as-a-service platform designed to measure and manage construction projects' embodied carbon emissions in Life Cycle Assessments (LCA) for any building project, at any design stage.
Enhanced Productivity Winners (Efficient)
Frontline (Singapore) – Frontline is a construction planning simulation and optimization platform. Using Frontline's proprietary optimization algorithms, contractors and operators can quickly identify best-in-class construction plans with optimal activity sequencing and resource allocation to save time and money while improving efficiency.
FYLD (United Kingdom) – FYLD is an AI-driven work execution platform that automatically transforms video and audio footage into real-time workflows, video risk assessments and analytics dashboards. After using the platform to record work and safety related activities, FYLD's AI analyzes the content in real time to enable remote managers to make better operating decisions about where to focus their attention to deliver better performance, improve site safety and manage contractors.
RodRadar (Israel) – RodRadar's Live Dig Radar (LDR) automatically detects underground utility infrastructure in real time. Its LDR Excavate bucket is equipped with ground penetrating radar that detects and alerts the excavator operator of all types of pipes and utilities, including gas, power, communications, fiber-optics, water, oil and chemicals - in different soils and types of substrates. The company was also named to John Deere's 2023 Startup Collaborator program.
[Watch: A Closer Look at World's First Excavator Bucket to Detect Buried Utilities]
Construction Supply Chain Winner (On Time)
Construex (Ecuador) –  Construex helps real estate developers quickly find suppliers. The platform digitizes construction suppliers across Latin America, offering software tools to help suppliers manage their digital presence, find and manage clients, and grow their businesses with data.
Future of Construction Winners (Innovative)
Civ Robotics (United States) – Civ Robotics is the maker of the autonomous surveying robot CivDot. The robot marks coordinates on the ground with paint that a worker following behind marks with a stake. It also records ground elevation for how much dirt to add or remove. This process up layouts for solar farm and road projects that require thousands of coordinates a day, the company says. Trimble Ventures, Trimble's corporate venture capital fund, is an investor in the company.
[Watch: This CivDot Robot Can Do Site Layout Autonomously]
sensmore (Germany) – sensmore is an AI Automation 2.0 software company that leverages novel radar technology and artificial intelligence to solve automation challenges for heavy machinery. The plug-and-play, vehicle-agnostic software is deployable across mining, quarries, and similar sectors. It enhances safety and provides production insights to increase productivity, cut costs, and lower emissions.
Since its kickoff in 2017, the competition has received almost 3,000 applications from over 80 countries. Participating startups have gone on to create notable change in a traditionally slow-to-evolve construction industry, Cemex Ventures says.