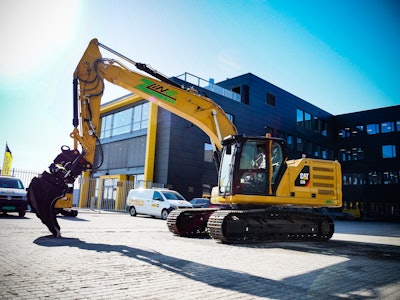 Pon Equipment
Erik Sollerud, managing director for Pon Equipment, Cat's dealer in Norway and the Netherlands, sums up his firm's journey into producing electric excavators this way: "We entered electrification because we're focused on being a solutions provider. The major contractors in Norway were asking for it, and there wasn't a line of sight for a factory electric machine."
There was a reason his customers were asking for electric machines. "Norway has been pushing hard to establish measures to show their commitment to the Paris Agreement," Sollerud says. "One of them is an emission-free construction site."
Pon's electrification journey, which began five years ago with a prototype excavator, has blossomed into a two-model production program that has a waiting list of contractors eager to put these machines to work.
But there were many lessons learned along the way.
"We did not want to build an excavator."
First, a little about Pon Equipment and the market it serves. About 5,000 construction machines are sold annually in Norway, which has a population of about 5.5 million people, Sollerud says.
With around 750 employees in its equipment, rental and power divisions, Pon Equipment sells around 1,000 machines in the country a year, he says. The company has been the Norwegian Cat dealer since 1930, and it has another entity that serves as the Cat dealer for The Netherlands.
When Pon took on the electric machine challenge, the last thing it wanted to do was start from scratch. "We did not want to build an excavator," Sollerud says. "We just took the rotational energy of the diesel engine and replaced it with an electric motor. We didn't do anything with the hydraulics."
The company also decided to use off-the-shelf standardized components from well-known suppliers. "It was more of a matter of picking the right quality components," Sollerud says. But even that proved more challenging than first envisioned. Read on.
Is the battery up to it?

Pon Equipment
"Electrification of a machine is not difficult; the challenge is the battery technology and its energy density," Sollerud says. It also has to be tough enough to withstand the vibration and impacts that are baked into construction equipment – for example, it has to be able to handle the intense vibration from a demolition hammer. Definitely not the same as powering a sleek full-suspension Tesla.
Another challenge is charging, especially on jobsites that in early stages might not be connected to an electric grid. "Our prototype had just a small charger and air-cooled batteries," Sollerud says, adding the company put about 600 hours on the prototype before switching to a Cat 323F for its first Z-line (for zero emissions) production model.
Pon Equipment chose the 323F because "we wanted to have a machine big enough to do a proper job and the right size to transport easily from job to job," Sollerud says. Noting that others were developing electric compact excavators, he says, Pon wanted to "develop a machine that can really make a difference, burning some real fuel [in its diesel version] and doing a proper job such as demolition and earthmoving."
The electrified 323F Z-line had liquid-cooled and heated batteries to help battle Norway's sometimes arctic conditions. It also had an on-board 150-kilowatt quick charger, making the unit more self-contained.
But jobsite power doesn't arrive in a standard way, Sollerud notes, and there can be small differences in frequency.
"We learned that with the on-board quick charger there could be problems between the grid and the machine," Sollerud says. "We saw that we needed to have a charging strategy that had the filtering outside of the machine."
With its current Z-line models, Pon has standardized on the European Union's CCS 2 (combined charging system, combo 2) charging connectors, standard on on-highway trucks and cars. "It can currently go up to 200 kilowatts and enable us to have a filter between the grid and the machine," Sollerud says. The machines can also be charged at night on a standard utility grid CEE connection via a charging cable.
Pon Equipment is now on its third battery supplier, electing this time around to go with 150- and 300-kilowatt-hour lithium-ion battery systems from Swedish firm Northvolt. Although the machine hours to date are few, Sollerud says the partnership looks "very promising."
But the largest challenge during development was not hardware related. "The big job was to design the software to manage the battery charging control and hydraulic power management," Sollerud says. The goal: to keep the machine as close to the original performance.
Pon Equipment worked closely with Caterpillar to manage this process. While it has been an on-going learning experiment, "we're very happy with the results," he says.
Pon sold eight of the 323F Z-line models in 2019 and 2020, and these units now have close to 10,000 hours in the field, Sollerud says. "The feedback is that the performance is good and it's quick and easy to operate. It behaves like a very balanced excavator."
Next generation times two
This year Pon is building Cat 310 and Cat 320 Next Generation Z-line models.
With the 310, Pon has a utility-size electric machine. The company considered using a Cat 308 but opted for the 310 because it had more weight and reach with about the same footprint, Sollerud says. "We wanted to maximize the capacity within still a quite small machine. It also has a rubber-pad option, allowing the machine to run on city streets."
With Cat's model upgrade to Next Gen excavators, Pon switched from the 323-sized machine to the 320. "On the conventional machines, the main difference between the 320 and the 323 is that the 320 has a four-cylinder engine and the 323 has a six-cylinder engine," Sollerud says. Since Pon is not using the engine, it decided to use the 320 because it would "be less engine to take out," he says.
On its Z-line spec sheet, Pon Equipment says the only in-cab difference between the diesel and electric version is an extra display that shows the status of the battery and drivetrain. The built-in charger is located on the right of the machine.
The 320 Z-line has a 120-kilowatt motor, a 300-kilowatt-hour capacity and a standard on-board 40.5-kilowatt charger that provides 95% charge in 6 hours. An optional 60.5-kilowatt charger reduces the charging time to 4 hours. (All estimated charging times are based on optimal temperature conditions.)
The 50-kilowatt 310 Z-line has a standard 20.5-kilowatt on-board charger that can be at 95% charge at 6 hours. An optional 40.5-kilowatt charger achieves this charge in 3 hours.
Using a 150-kilowatt CCS2 quick charging interface – ideal for a quick top-off during lunch breaks – the 320 Z-line can reach 80% charge in less than 1.5 hours, Pon Equipment says, but notes it does not provide these chargers. To run a machine directly from the grid, an optional grid-connected interface is required.
Pon estimates that the 320 Z-line will run 5 to 6 hours in heavy excavation applications and 6 to 8 hours in fine grading and landscaping applications.
A big price tag
Sollerud calls the market response "tremendous" even though the price tag is almost three times that of a conventional machine, primarily because of the battery expense.
Even with such a steep price tag, Pon has a waiting list for its Z-line machines, Sollerud says. Customers ordering a 320 Z-line now will have to wait until Q1 2022 for delivery. The 310 Z-line list is bit shorter; order now and you can get it in Q4.
Softening the price hit are Norwegian government subsidies. "The government can see that without doing this, it will not start to grow," Sollerud says. These subsidies vary but can run between 30% to 50% of the price differential, he says.
It takes Pon technicians roughly 400 hours to convert a machine from diesel to electric. "We have standardized the kits, and everything is pre-made, including the wiring and brackets," Sollerud says.
Although he had a target of producing 100 Z-line machines this year, Sollerud thinks it will be around 80. He eventually wants to have a production level of 10 machines per month.
But Sollerud makes clear that Pon Equipment has no interest in being permanently in the electric machine manufacturing business. "We are only doing this now to bridge the gap between now and when Caterpillar will have these from the factory. It's just a matter of time."
He adds: "Now everyone is talking about electrified construction machines, and I think within the next two to three years we will see a significant change among the OEMs, having these come from the factory."