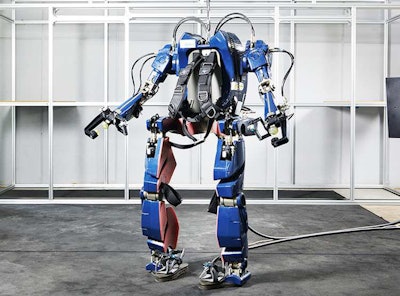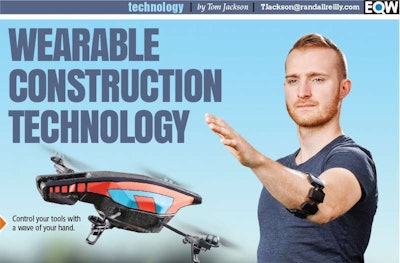 The dawn of the bionic construction worker is not quite here yet, but it's coming.
At ConExpo this year, "Wearable Technology" was the subject of one of the show's Tech Talks, and while most of this technology has yet to make it into the field, in the next two to three years wearable technology products may become regular features on the jobsite and a boon to safety and productivity.
Gesture control with Myo armband
The Myo Gesture Control Armband from Thalmic Labs can detect five distinct hand gestures and wirelessly control a number of different technologies. By reading the electrical activity in your muscles and the motion of your arm with a nine-axis motion sensor, it can enable you to direct the flight of a drone, change the slides on a PowerPoint presentation or manipulate figures in a video game. Using the Myo armband allows you to eliminate remote controls, touch pads, buttons and voice control while remaining hands free. Third party developers can configure the armband for a variety of applications. It's available on Amazon for about $200.
Multiply strength with Exoskeletons
Bending, lifting, twisting. When that's all you do all day long, it can take a toll on the body. The big box retailer Lowes is experimenting with exoskeletons to help reduce strain on the muscles and joints of workers engaged in these activities. According to a report on CNN, Lowes collaborated with Virginia Tech to create a harness-like exoskeletons that use flexible carbon fiber reinforcements running down the back and thighs. The carbon fiber shafts flex and release energy, adding power to lifts and reducing the strain on muscles.
Last year, Hyundai announced an exoskeleton project that looks like something out of a science fiction flick—or a comic book.
In the announcement of its exoskeleton, Hyundai made several mentions of Marvel's Armored Avenger, pointing to Iron Man as the company's inspiration. The exoskeleton is designed for manufacturing and trades workers whose lives could be made much easier with a dash of super strength. Hyundai says the suit gives workers the ability to lift "hundreds of kilograms," or as much as 600 pounds. And while the suit makes the wearer both stronger and safer while on the job, it only weights about 110 pounds, allowing quick movement over long distances.
Rise Robotics is another company experimenting with an exo-suit that is a backpack like apparatus using compressed air to drive what it calls a BeltScrew Drive actuator style type transmission to power human heavy lifting operations.
And a firm called Ekso Bionics makes a bionic arm, the EksoZeroG, that can be tied off to a structure to enable a worker to hold a heavy tool like a breaker overhead or horizontally for long periods of time.
Keep your cool
You can't change the weather but you can take measures to keep yourself cool and this Vortec Personal Air Conditioning vest (PAC) beats shade and Gatorade, hands down.
The vest hooks up to a regulator-like device that takes air from an air compressor and cools it down 45 to 60 degrees below the ambient air temperature. The cool air is blowing into the vest which is perforated with small holes that distribute the cooling air around your upper torso and neck. There are three models, two cooling only and one that can be switched from cooling mode to heat mode and deliver warm air in cold situations.