Topcon unveiled a slew of new products, product improvements and upgrades at the ConExpo show earlier this month. The most significant of these is the new ZPS concrete paving system. The system is a robotic total station that operates using less hardware than a traditional local positioning system or LPS.
For tracking and guidance, the ZPS system's Z-Robot uses what Topcon calls is Z-beam laser technology. The Z-beam provides optically based vertical control in addition to maintaining horizontal accuracy across the paver. This cuts setup time in half, says Murray Lodge, senior vice president and general manager of the construction business unit. The Z-robot eliminates the need for multiple robotic total stations to control the paver and another set of instruments for downrange transitions.
On the paving machine, the Topcon Z-stack modular system integrates GPS, optical targeting and Z-beam reception into one unit or "stack." The system does not require a separate base station and requires only one cable for power and connectivity. It also offers a wider working area, up to 150 feet more than traditional methods, says Lodge.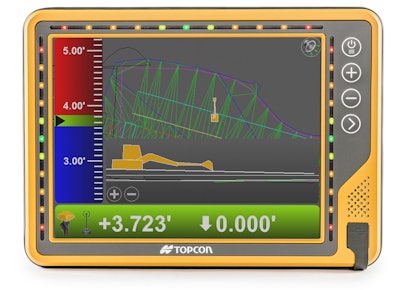 In line with industry trends, Topcon also unveiled a 10-inch monitor for its machine control systems. The GX-75 touchscreen display is bright enough to be read in sunlight and uses LED light bars to enable operators to see at a glance where they are in relation to the grade. An adjustable backpack lets you mount the display on the right, left or center of the cab. Using the company's Sitelink 3D monitoring and management service, the GX-75 can instantly communicate job progress to the office and receive updated plans and job files in the field. The virus-protected display also has USB ports for saving and downloading job files.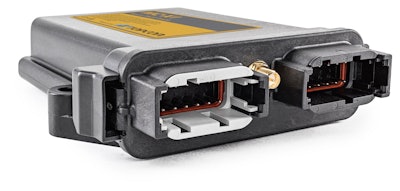 For excavator automation Topcon upgraded its entry level, 2D machine control system, the X-52 with a new MC-X1 controller that is compatible with all brands and models. The X-52 system will be configured to be 3D capable later this year.
In other news, the company has expanded the capabilities of its data processing software. The Magnet Collage system now works with laser scanners, mobile mapping devices, modern paving scanners and traditional surveying instruments, allowing you to stay within one software environment to process any source of point cloud data and imagery.
And if you've ever felt frustrated using you phone to tell somebody what you are seeing on your monitor in the field, the SiteLink3D Support Desk for Topcon now allows Topcon support staff and distributors to see the same things you're seeing. With it service and support technicians can view and adjust configurations and settings on the control box and send and install updates remotely from anywhere.
Topcon also announced:
♦  An agreement to bundle Bentley reality modeling software with Topcon drones (or unmanned aerial systems).
♦  The addition of advanced Wi-Fi connectivity options for its DS-200i direct aiming station.
♦  A new integration to extend compatibility of the Topcon GT series of robotic total stations with Autodesk DIM 360 Layout software.