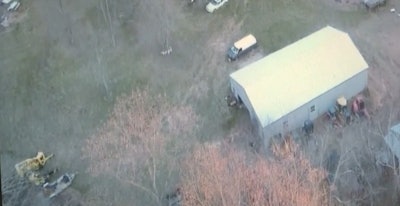 In just a few short years drones have matured from a hobbyist gadget into a sophisticated tool that can save contractors a lot of time and a lot of money on tasks like progress photos, surveying, asset management and more. And with manufacturers like Caterpillar and John Deere beginning to sell this hardware right alongside their yellow iron, it's become clear this technology will play a major role on the jobsite of the future.
And recently, the owners of some stolen equipment in Delaware, New Jersey and Pennsylvania, have one drone in particular to thank for the safe return of their property.
According to a report from WBFF TV in Baltimore, Maryland's Cecil County Sheriff's Office (CCSO) used a drone to find the location of nearly $400,000 in heavy equipment. Working off a tip from the New Jersey State Police, CCSO investigators tailed the suspect and found that as he traveled between the three states where the equipment was stolen, he frequented a property in Elkton, Maryland.
Cecil County Sheriff Scott Adams then flew one of the office's two drones near enough to the property where investigators could get a visual and discovered "several large pieces of construction equipment…to the rear of a large structure on the property," according to a CCSO press release.
Using the drone footage, search and seizure warrants were obtained. Law enforcement officials seized 19 pieces of heavy equipment from the property and have begun returning the machines to their owners. Officials have so far been able to return 11 of the 19 items.
Among the machines stolen were John Deere and Kubota excavators, a Deere bulldozer, a Case backhoe and skid steer and more. You can see the full list of stolen equipment at the FOX 45 website.