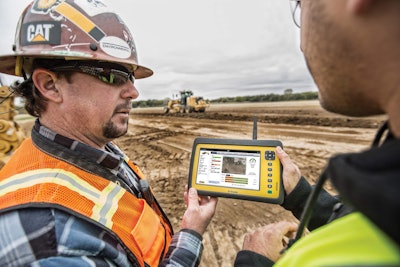 Caterpillar says it's putting its future bets on the huge opportunities it sees beyond the iron, in comments made this weekend on the eve of ConExpo-Con/Agg 2017. "Instead of Cat being a brand on the jobsite, we're pushing to make Cat the jobsite brand," says Paolo Fellin, Cat vice president, global construction and infrastructure.
Cat will use its Cat Connect Services suite of technologies to push this concept forward, all enabled by the telematics that are part-and-parcel of today's machines, no matter the brand. As the result of these telematics, Cat and its competitors continue to gain detailed analytics of exactly when, how hard and where its machines are being used. Cat took a preemptive strike last year when it announced at the Bauma trade show that its Vision Link telematics service would display information from all brands. In August, John Deere joined forces with HCSS to deliver its own mixed fleet telematics data.
And this week Cat is launching its Cat Connect Productivity Services, which will give users a number of new services, including utilization reporting, geospatial mapping created by unmanned aerial vehicle (drones) surveys and benchmark assessments.
The voice of the machine
Telematics data results in a wealth of information for both manufacturers and machine owners. "Before, we had the voice of the customer and the dealer, and now we have the voice of the machine," says Fellin.
Cat says it's using telematics information to design machines to fit particular applications. During the press event, Fellin showed a chart tracking fuel burn and machine hours for a 950 wheel loader in one dealer's district for one month. What at first glance seems a confusing array of dots, upon study the chart shows exactly how hard these machines are being worked in one locale. "We can use information such as this to design a machine to fit the application," he says. This was the part of the process that lead to the development of the new 950 GC, a lower-spec loader designed to appeal to lighter duty operations, and priced 15 percent less than the full-spec 950M.
Fellin estimates Cat customer use of telematics is still low, around 15 to 20 percent. (Others report 10 to 15 percent adoption rates.) "We want to bring it up to more than 30 to 40 percent," he says.
No middle ground
The use of telematics data is a key part of Cat's overall digital thrust, says George Taylor with Caterpillar: "We're at an inflection point in this business, and you're either going to disrupt or be disrupted. There's no middle ground."
Recently, Cat has begun partnering with universities and tech companies such as Airware, busybusy, Minesense (which uses sensors to determine the composition of the material in the bucket) and Sarcos in its efforts to stay ahead of the curve. While Cat will continue to drive value around its machines, it sees the technology surrounding the machines as the real growth driver, with the capability of adding 10 to 15 percent more productivity and efficiency per year, Taylor says.
Expanding on the "Cat the jobsite brand" theme, Taylor says Cat is looking to solve problems beyond the machine. For example, he says one customer used Cat to connect more than 1,600 assets, including ancillary items such as light towers and buckets, and saw a 20 percent increase in utilization. "And only 20 percent of their assets were Cat," Taylor adds. "We believe by partnering, we can drive scale."
There's tremendous opportunity, primarily because Cat says that 60 percent of its machines – new and used – are now connected with telematics, and nearly 100 percent of new machines have telematics on them. "We have the largest connected industrial fleet in the world," Taylor says, echoing comments that outgoing Caterpillar CEO Doug Oberhelman made when he introduced its "Welcome to the age of smart iron" theme last year at Bauma.
In addition to providing mixed fleet analytics, Cat is expanding its Product Link capabilities through Product Link Truck, which will track a customer's on-highway fleets through a partnership with technology partner Trimble, and the new Cat TrackIt, which allows users to apply sensors to easily-misplaced items, such as hand tools and attachments, and keep track of them via a smart phone app.
All of these technologies are being offered under the Cat Connect Services umbrella. "The value is going to come from the technology side," says John Carpenter with Cat Connect Technology and Services. "Everything starts with connectivity. Our goal is to have our dealers play the role of trusted advisor to our customers."
Dealer Chris Zaharis, Empire Cat executive vice president, agrees: "We see data as the new natural resource, and we're in a hurry to get our customers' assets connected."