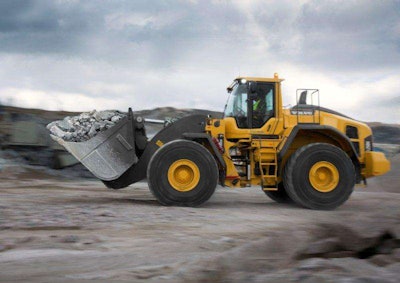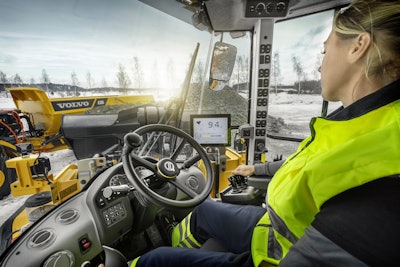 Volvo Construction Equipment is bringing a new feature to wheel loaders that delivers both real-time payload data to operators and easy work order management to owners and customers.
Volvo calls the system Load Assist and is now offering it on its L110H, L120H, L150H, L180, L220H and L250H wheel loaders. The company says the system "eliminates the guesswork associated with loading accurate tonnage" and "reduces occurrences of reweighing and reloading."
Load Assist data is delivered through Volvo's new Android-based Co-Pilot interface. Unveiled at the Bauma show earlier this year and awarded for its design soon after, Co-Pilot introduces a tablet-like control interface to Volvo machines with a 10-inch, high-resolution touchscreen.
Load Assist is actually one of four Co-Pilot services Volvo has announced and through this interface, the company says loader operators can set up projects with just a few touches by selecting customer name, work order number, target tonnage and material type. Load Assist allows each of these parameters to be saved for future work orders.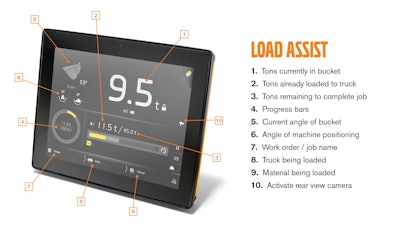 Once the operator begins work, Load Assist tracks the progress of the job, displaying in real time the tonnage currently in the loader's bucket, tonnage already delivered to the truck (or other delivery location) and the tonnage that still needs to be delivered to finish the job. Operators can use the display to set allowable limits on both the tonnage in the truck and the tonnage in the bucket.
The monitor also displays the bucket angle and machine angle and automatically engages the rear-view camera when the loader is put in reverse.
Volvo says Load Assist tonnage measurements are accurate within +/- 2 percent. The system alerts the operator if the current weight in the bucket is overloaded or if that weight will overload the truck.
Easy documentation
Because the Co-Pilot system can be equipped with a 3G SIM card, Load Assist data can be uploaded to the cloud and accessed through an online portal. However, Volvo offers owners two other ways of capturing this data: side loading to a flash drive or connecting a small printer to the Co-Pilot interface via USB.
When logging this data, Load Assist includes work order number, customer name, truck loaded, truck tonnage and the time and date of delivery. It then delivers this data in the form of a spreadsheet that can be loaded into any customer ERP system, Volvo says.
Because these systems are integrated into the loader's electrical structure, Co-Pilot and Load Assist also feed productivity data to Volvo's CareTrack telematics system. This allows owners an even deeper understanding of loader performance through data including tons per gallon of fuel, gallons of fuel per ton, total number of cycles and percentage of cycles that were overloaded.
"The wonderful thing about Co-Pilot is that it encourages collaboration—collaboration between owner and operator, between owner and customer, and between Volvo and our customers. Because Co-Pilot and the Assist programs are software-based, they can easily be updated and improved over time based on customer and dealer feedback," said Scott Haylock, manager of productivity services at Volvo CE in a statement.
Co-Pilot Updates
Because of its 3G SIM card compatibility, Volvo says the Co-Pilot system and its associated services can automatically and wirelessly receive software updates.
Load Assist joins Compact Assist, the company's intelligent compaction system, as the first two Co-Pilot services to launch. Compact Assist uses Volvo's Density Direct technology to provide compactor operators with a real-time density map of the job at hand through the Co-Pilot display.
Dig Assist for excavators and Pave Assist for pavers will launch at some point in 2017.