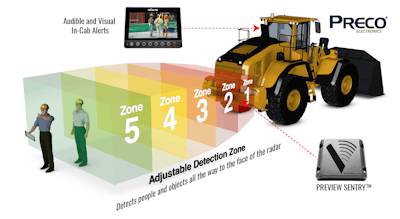 Preco Electronics is debuting the PreView Sentry at the MINExpo show in Las Vegas this week, an object detection technology that uses a different radar bandwidth than before, thus making it more functional, says Doug Whitfield, director of marketing.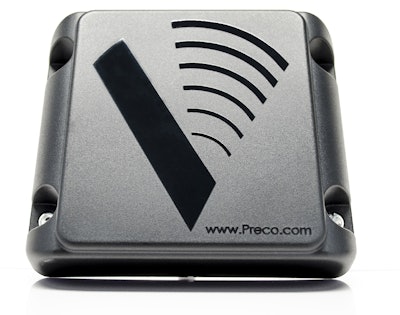 Sentry has a fully adjustable detection zone, with the ability to detect objects from the face of the radar up to 98 feet. The width of the detection zone is adjustable to fit almost all machine types.  
The device can accurately identify the location and velocity of up 16 people or objects simultaneously, says Preco. Built-in fail safe alerts notify the operator of radar blockage or communication issues.
"Before, it was difficult to get object detection of items or people who were at close range to a machine," says Whitfield. "We can now detect objects up to the face of the radar, basically at the face of the vehicle."
Preco, which markets its devices to both OEMs and end users, says it eventually will be able to tie in the Sentry to a machine's telematics system, so users can extract information such as near misses and how quickly the operator applies the brakes. "We are working with a number of telematics providers right now to get that feature out there," Whitfield says.
In addition, Preco is working on a Sentry feature that would rank the nearby detected objects in terms of potential impact, based on direction and velocity.