GoPro made a splash recently with the unveiling of its Karma drone. Not only does the Karma fold up for easy transport, it has a beginner-friendly flight system designed not only to assist in operation, but to teach proper flight control techniques as well.
And despite the Karma's relatively low base price of $799, it had an uphill climb making a dent in an industry currently dominated by drone manufacturers like DJI, makers of the popular Phantom series. And now, roughly a week later, DJI has unveiled a compact drone of its own that makes that uphill climb even steeper.
The DJI Mavic Pro has a foldable design allowing it to reduce to half the size of the GoPro Karma in its folded state. A hands-on piece by the folks over at The Verge shows the Mavic Pro nearly fitting in the palm of the author's hand when folded. That means you can easily throw this thing in a backpack or a purse. Honestly, it makes the giant Karma backpack GoPro's marketing suggests people lug around look silly.
Even the Mavic Pro's remote control is compact, folding down to a simple, two-joystick scheme with a built-in LCD displaying flight data alongside dedicated buttons for Return-to-Home and more. The controller also expands to allow for connection to a smartphone for enhanced control through an app.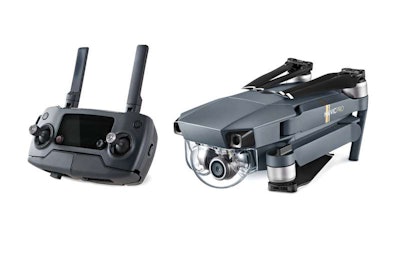 And despite its low base price of $749, the Mavic Pro doesn't skimp on the specs. It features a 4.3-mile range, flight speeds up to 40 miles per hour and an ample 27 minute flight time per battery charge. Plus, it's equipped with a gimbal-stabilized 4K camera that can shoot 12-megapixel still shots with Adobe DNG RAW support. The camera's orientation can even be flipped 90 degrees to portrait for vertical stills and video. Unlike GoPro's Karma, you can't detach the Mavic Pro's camera and gimbal for hand-held or mounted shooting, but it's hard to imagine a large number of drone buyers caring about that functionality anyway.
DJI says the Mavic Pro maintains stable flight in winds of up to 24 mph and has an object detection and avoidance system built in.
Like GoPro did with the Karma, DJI is focusing on ease of operation with the Mavic Pro. To that end, the Mavic Pro features a new system DJI calls FlightAutonomy. This system employs five cameras, GPS navigation, a pair of ultrasonic range finders and redundant sensors in order to position, navigate and plan routes on its own. The drone also has an auto landing system that brings it back to its launch location when the drone loses contact with the controller or when the battery is critically low.
DJI has also designed the Mavic Pro to be operated solely with a smartphone, and thanks to the autonomous flight control paired with the autofocus system on the drone's camera, it will support hands-free "gesture control". Here's how DJI explains it:
In Gesture mode, you can use gestures to have Mavic Pro locate you, center you in the frame and take the perfect shot as Mavic Pro's flashing lights count down to the photo. Sharing your best aerial moments has never been easier with live streaming to Facebook Live, Periscope and YouTube through the DJI GO app.
An updated version of DJI's ActiveTrack recognizes common subjects such as people, bicyclists, cars, boats and animals, which then sends Mavic Pro to follow behind, lead in front, circle above or track alongside the subject, keeping the camera focused on the subject while you concentrate on flight maneuvers. The new Terrain Follow mode means that you can race up a slope behind a subject while remaining at a constant height between 1 ft (0.3 m) and 33 ft (10 m).
DJI has also developed a pair of goggles for use with the Mavic Pro that will allow you to strap them on during flight for an immersive view of what the drone is capturing in real time.
The Mavic Pro will retail for $749 without the remote control, since it can be operated by a smartphone. For $999 you get the drone and the remote control, while $1,299 will get you the drone, remote control, two extra batteries, extra propellers, a charging hub, an adapter, car charger and shoulder bag. Extra batteries will retail for $89 each and the price of the goggles has not yet been announced.
You can pre-order now at the DJI website and will begin shipping October 15. The drone will also be available in Apple Stores by early November.