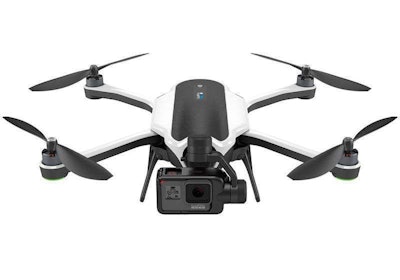 Though the company's cameras have long been at the heart of hobbyist and professional drone setups alike, GoPro today unveiled its highly anticipated entry into the unmanned aerial vehicle (UAV) market.
GoPro's Karma drone will hit the market just four months after the Federal Aviation Administration's finalization of commercial drone rules, but years behind competing drones from manufacturers like DJI, Parrot and Yuneec. However, GoPro's highly recognizable brand power in conjunction with the Karma's portability, smart features, ease of use and competitive price already make the drone a compelling choice in what is quickly becoming a crowded market.
The Karma features a unique foldable design that allows it to fit into a slim backpack case which is included. And unlike drones from competitors like DJI, the Karma holds its GoPro camera out front in order to avoid the occasional intrusion of spinning rotors into your shot.
The camera is held by a clever three-axis gimbal which not only stabilizes the footage while the drone is being flown, but can be removed from the drone for handheld shooting or for other shots when using one of the many mounts GoPro currently offers for its cameras.
Like GoPro's Hero adventure cameras, the Karma is primarily targeted at the consumer and sports/outdoor markets. That goes a long way in explaining its low base price of $799 but it also informed the drone's highly portable design and the clamshell remote control's smartphone-like interface and built-in flight trainer.
Despite the Karma's consumer-heavy marketing, it might be a great fit for construction companies and others businesses waiting for the right setup to hit the market before seeing how a drone can help their business. As we discussed in our coverage of Kespry's Drone 2.0 setup, which not only flies itself, but renders 3D maps for you, it hasn't been the price of drone hardware keeping prospective commercial customers from diving in, it's the cost of piloting, fleet management and imaging software that comes along with drones.
And while Kespry is offering the Drone 2.0 platform on a yearly $30,000 lease, that type of pricing effectively limits the appeal of the service to larger firms and those who are certain they'll be employing the technology on a consistent basis. Priced at $799 if you already have a GoPro Hero 4 or Hero 5 to pop in, and at $999 and $1,099 when including a Hero 5 Session or Hero 5, respectively, the Karma drone offers not only a low entry price to drone piloting, but also promises to quickly teach anyone how to fly one.
"Even if you've never ever operated a drone before, it's designed to make you successful in your first flight," says Pablo Lema, senior director of GoPro aerial capture products, in a Karma promotional video. The Karma controller features a clamshell design with a touchscreen up top complemented by dual joysticks below.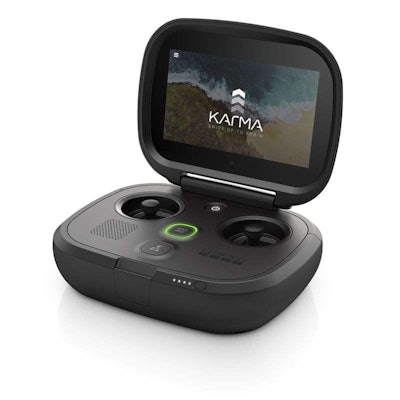 Upon your first flight, a built-in flight simulator will walk you flying the Karma. A one-button take-off/return to home system takes care of getting the drone airborne and landing it in the same spot it took off. Plus, while the drone is in flight, pilots can select from four pre-made automatic shot paths that momentarily take over control to capture cinematic angles and camera motions.
While in flight, the Karma transmits what its camera is seeing to the remote control's touchscreen. And in situations where you'd like to share what the drone is capturing with a second person during a flight, GoPro has developed an app for the drone that allows the drone to transmit images to a tablet or smartphone. The app doesn't allow that person to fly the drone but instead gives them control of the camera.
The GoPro Karma goes on sale October 23.