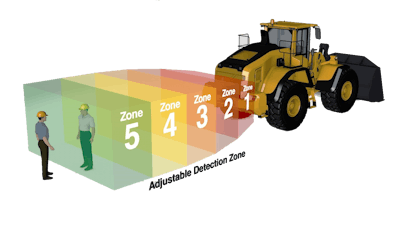 Backup cameras are good. Radar object detection systems are even better when it comes to preventing accidents. At the World of Concrete last week, Preco announced its newest product the PreView VideoLink II—a radar-based object detection system that integrates with existing in-cab rear-vision and backup cameras.
With a camera-only system an operator does not know when something is behind him unless he looks up at the screen, says Doug Whitfield, director of marketing at Preco.
"What our radar system does is give you an audible alert. The audible signal increases in frequency and pitch the closer you get to the object. It also superimposes a visible warning on the screen for the back up camera. Once he hears the signal, the driver can stop, apply the brakes and then look in his camera screen to figure out the issue."
"Preco's radar technology has vastly improved the effectiveness of our previous camera-only offerings," says Brian Pleinis, manager, engineering section at KCMA, which recently began offering Preco's vision-plus-radar options for its Kawasaki brand of wheel loaders.
Environmental effects can compromise traditional ultrasonic radar: rain, snow, ice, and dust, says Whitfield.
"Our radar is a patented pulse radar technology that detects both stationary and moving objects. We've put it through extensive testing, including water, mud, ice, gravel blasts and extreme heat and cold. It's designed specifically for heavy equipment, and all we do is heavy equipment in mining and construction."
While radar-based object detection systems are more expensive than back up cameras, they offer considerable safety advantages, says Whitfield. "In 15 years we have not had a single fatality on equipment with this technology installed on it," Whitfield says.
And the reduction in collisions, metal-to-metal damage to machines, can often justify the ROI, he says. "One of our mining customers has reduced reportable accidents 75 percent using our system," he says.