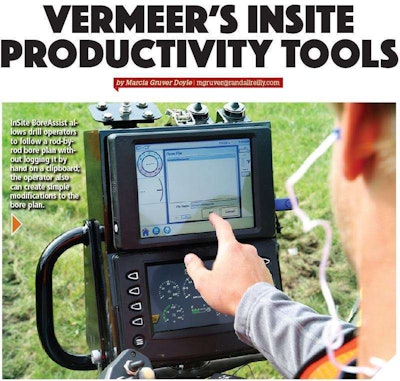 As Jon Kuyers tells it, Vermeer team members started to notice something when they visited contractors. "We'd go to a jobsite," says Vermeer's senior global product manager, "and our focus was naturally on the equipment and how to make it more productive. But then we'd wait for the job to get organized. It wasn't the machine causing the downtime, but missed steps in the entire drill planning process."
As with most construction jobs, horizontal directional drilling involves precise planning, execution and paperwork… lots of paperwork. Not only does the job need to be planned, mapped and recorded, everyone who connects with the job (office, owners, subs) must stay on top of field progress.
Vermeer already had two tools in its arsenal: InSite Fleet, standard telematics on certain drills, and InSite BoreAid, which guides users through the bore planning process. While a good start, it was not enough to handle the full gamut of planning and procedural needs on a directional drilling job.
"The advance of smart phones provided a perfect storm" for Vermeer's InSite Productivity Tools, says Nathan Copeland, Vermeer engineering manager. "The technology is everywhere, and contractors are primed and ready."
So Vermeer started with how best to connect the drill rig to a contractor's back office, says Reinhard Beschel, InSite Productivity Tools project manager. "Contractors need to know what a machine is doing all the time, so we used that as our base in our development and expanded from there," he says. "We also knew that we had to make each tool extremely easy to use." So in addition to InSite Fleet and InSight BoreAid, the Vermeer design team created four additional complimentary tools, that can either be used separately or as an entire six-tool suite:
InSite Projects, creates a repository for all job information – including 811 locates, parking permits, supply lists and work orders – available for sharing electronically and viewable from phones, tablets and computers. Reports can be downloaded at the end of the job to help expedite invoicing. It also fuses surface, subsurface and topographical information into one view. "Projects is really the glue that holds it all together," Kuyers says. Adds Beschel: "Projects connects all the data around the jobsite to those involved; it's information that makes the job easier."
InSite FleetEdge, provides actionable machine information such as productivity tracking, maintenance prioritization, fuel savings estimation and project time management. Vermeer says this tool also helps with operator training, since it can report on how well an operator is doing compared recommended loadings, thrust, rotation and pullback on a drill. Instructions from the program can prompt the operator to, for instance, speed up their tramming or increase their rpms.
InSite Mapping, which Vermeer describes as the "white board for the bore," uses a GPS-driven receiver to white line, or mark, the proposed bore ahead of time, then sending the data to InSite Projects for planning. During the bore, a crew can record obstacles, such a tree that's in the bore path. After the bore is complete, you can use any receiver that pairs with Vermeer's system to walk the bore path and record it as an as-built. You can use a smart phone or tablet to record the information directly into Projects, making it available to anyone on a project team.
InSite BoreAssist is used during drilling, designed as a digital alternative to rod-by-rod logs on a clipboard. Developed with locator manufacturer DCI, the on-rig app shows the bore plan on DCI's Aurora display in the operator station; the bore plan is loaded into the display and the operator follows the rod-by-rod plan. The bore head's position is tracked directly from the DCI F5 locator used by a crew member walking the bore path. The operator can note in-field deviations from the bore plan; if a simple modification is required, it can be created on the display, saved and sent to the office.
"We don't believe we are done," Copeland says. "This type of project doesn't have an end." Vermeer also sees possibilities for the tools in contractor markets beyond horizontal boring. "Every contractor is faced with the challenge of growing their profit margins, and that's much easier to do with the productivity gains that tools like this can give," Copeland says.