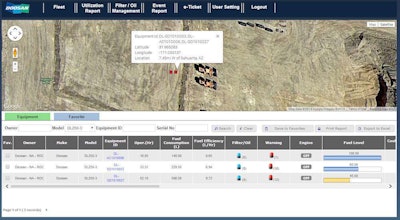 Doosan has launched an upgraded telematics package for the company's full line of heavy equipment. Standard on all machines except for DX63-3 and DX85R-3 compact excavators, Doosan Telematics is in response to customer demand for machine-to-machine communication and equipment monitoring.
Outfitted with a complimentary three-year subscription that includes prepaid wireless service, Doosan machines can be monitored remotely via the telematics website, CoreTMS. Once the complimentary period expires, customers have the option to purchase a service extension.
Doosan Telematics features include a GPS unit to monitor the machine's location; a Q-Pro wireless data modem with wireless service to send collected data from the machine to the telematics site; and satellite antenna and service for when the machine is working in remote locations where cell service is unavailable.
Doosan says the telematics system benefits customers through the use of operational data that assists them with improving efficiency, such as altering machine idle times based on fuel usage. The system also allows access to the machine's maintenance history, and aids in scheduling PM. The system also eliminates the need to physically check fuel levels on the machine, as the information can be viewed remotely.
The telematics system will allow fleet managers to compile a number of reports, including the following:
Fleet status
Machine details
Machine location
Operating hours
Fuel usage
Engine idle time vs. work time
Machine error codes
Engine and hydraulic oil temperatures
Maintenance history
Utilization reports
Future software updates will be sent over the air to the terminal from the machine, eliminating the need to visit the dealership for updates.