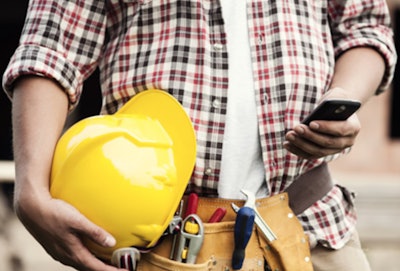 Clear trends have emerged in the past four years as contractors rely more heavily on technology, according to a new Equipment World survey on Internet use and social media.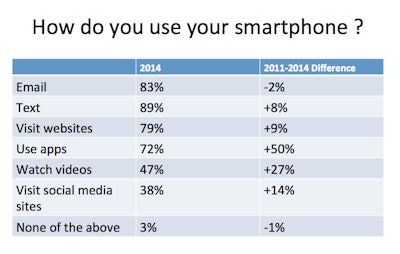 In this year's survey, 66 percent of contractor respondents say they have an Internet-enabled phone, a rise of 14 percent over the 2011 survey. This lags the estimated 70 percent smartphone adoption rate of the general population by only 4 percent, belying the belief that contractors are late adopters of technology.
Smartphone habits are definitely changing. Compared with the 2011 survey, 50 percent more respondents this year say they use apps and 27 percent more say they watch videos online.
Adding emphasis to these numbers is that they reflect changes in a respondent base that skews older: 56 percent are 55 years or older and 36 percent are aged 35 to 54. This demographic slice has remained consistent throughout the three years this survey has been taken: 2011, 2013 and 2014.
The vast majority of respondents—95 percent—use the Internet to search for equipment information, an increase of 9 percent since 2011. There have been modest changes in how respondents use the Internet, with a new emphasis on reading reviews of equipment models (up 13 percent) and reading reviews on forums (up 11 percent).
And tablet use has gained definite traction among respondents, with 39 percent now using them, a 28 percent rise over 2011.
Contractors still remain reticent about social media, with the exception of Facebook. Asked if they visit any social media site, 45 percent said yes. Of those, 94 percent said they visited Facebook, a number that has remained flat through the three surveys. Those visiting YouTube, however, rose to 62 percent in 2014, an 18 percent increase from 2011, and another indicator that videos draw contractor interest.
While some of the contractors I talk to joke about being the last person they know who's still using a flip phone, it's clear they're hardly exceptions to what's happening in the world around them. How these trends play out in the years to come will be interesting to watch.