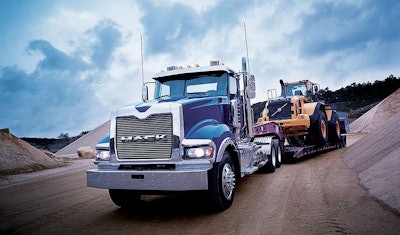 Mack announced a major expansion package to its GuardDog Connect fleet telematics system today. The company's new Mack Fleet Management Services is a suite of software and technology offerings made possible by an initial partnership with Telogis.
The new system, which features three distinct and highly configurable application packages, builds off of Mack's existing GuardDog Connect platform and will be available on Pinnacle, Granite and Titan truck models.
According to John Walsh, vice president of marketing for Mack, the new system dovetails with a range of high-value investments both the company and its dealer network have been making recently into order to increase both customer service and overall total cost of ownership for Mack customers.
The collaboration with Telogis allows Mack to now offer three distinct telematics packages—Telogis Compliance and Navigation, Telogis Fleet and a bundled package of the two called Mack Fleet Management Services which will also offer the flexibility to work with multiple partners.
Kevin Moore, vice president, global automotive and OEM sales for Telogis, says the most basic package is Telogis' Compliance and Navigation, which is designed to enable drivers to better manage and meet hours-of-service requirements and complete Driver Vehicle Inspection Reports. Telogis Navigation also delivers dynamically updated road conditions collected from an existing community of more than 140,000 commercial drivers in North America, enabling Mack customers to avoid potential delays and helping to increase on-time deliveries.
The second telematics package offered is Telogis Fleet, a comprehensive, scalable fleet management solution that Moore says can be activated over the air. Combined with Mack proprietary data, it provides real-time visibility into vehicle and driver performance. With Telogis Fleet, customers can view critical information for all the trucks in their fleets on one dashboard to help run their fleets safely and efficiently.
A third option is primarily focused at data-driven large fleets interested in overall vehicle performance, fuel economy and preventive maintenance indicators. Called Mack Fleet Management Services the system combines all elements of the first two telematics systems to provide users with a complete overall picture of operational costs.
"The key here is information and choice," stresses David Pardue, vice president of business development and soft products for Mack. "We know fleets don't want data. They want usable information. That's why we have designed all three packages to be completely flexible and convenient. Fleet managers can customize the coverage and information they receive to meet the entire application range Mack trucks work in today: Everything from construction and vocational applications to regional and long-haul delivery segments."
"Mack Fleet Management Services offer customers tools to effectively and efficiently manage their operations, improving their total cost of ownership," adds Stephen Roy, president of Mack Trucks North American Sales and Marketing. "Integrating technology and services facilitates customer choice and offers them the best return on investment. We are pleased to be working with Telogis out of the gate in providing these types of services."