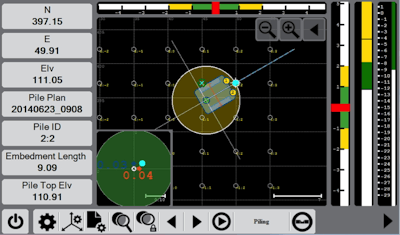 Machine control is for more than just moving dirt. This summer Trimble launched its DPS900 Piling System, which is a dedicated, land-based 3D machine control system for use in locating and setting pilings. It is adaptable to a variety of machine makes and models.
The system allows contractors to take advantage of the accuracy and time-saving benefits of GPS machine control in the surveying and positioning of pilings for structural foundations, retaining walls, coffer dams and solar or wind-farm installations.
Using GPS cuts survey costs and improves safety by reducing the number of people in and around the equipment. Automated quality assurance and quality control reporting enables you to capture start and end positions, time and elevation, embedment depth, blow count reporting and inclination and orientation control of pilings.
When teamed with HCE office software by Trimble, you can create pile plans in the office and integrate these with data prep and estimating and reporting functions. The company's Connected Site software allows for wireless data transfer and GNSS corrections.