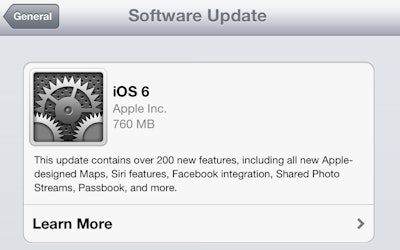 We're still two days away from the launch of the iPhone 5, but Apple's latest version of its iOS mobile operating system launches today.
Around noon, Apple pushed the iOS 6 update from its servers to iPhone, iPad and iPod Touch users. If you haven't gotten a push notification notifying you of this over the air update (no need to plug into a computer running iTunes) here's how to download the update yourself:
Visit the Settings app
Tap "General"
Tap "Software Update"
Tap "Download and Install"
That's it! iOS 6 has more than 200 new features including
iMessages will sync between devices
Siri has expanded functionality such as the ability to launch apps and pull in sports scores, movie reviews and restaurant reservations
Apple's new Maps service (which replaces Google maps) with turn-by-turn directions
Passbook, Apple's take on the digital wallet which stores gift cards, boarding passes, concert and sports tickets and more.