Field Service Trucks
By Lauren Heartsill Dowdle
Truck Accessories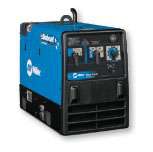 EFI OPTION
Miller Electric's Bobcat 250 welder/generator has 40 to 250 amps (275 amps with the EFI option) for the DC Stick/TIG and AC TIG/Stick applications. Rated at 104-degrees Fahrenheit, the machine has 11,000 watts peak and 9,500 watts continuous power – or 12,000 watts peak and 10,500 watts continuous power with the EFI option.
Visit EquipmentWorld.com/info
Truck Accessories
AIR-PISTON PUMP
Have lube truck capabilities without buying a single-purpose lube truck with Auto Crane's Lube Skid, which is available in four tank configurations. Each tank has a 60-gallon capacity and is constructed of aluminum. The oil- and grease-pumping system uses an air-piston pump. There are also multiple filters between the hose reels and pumps.
Visit EquipmentWorld.com/info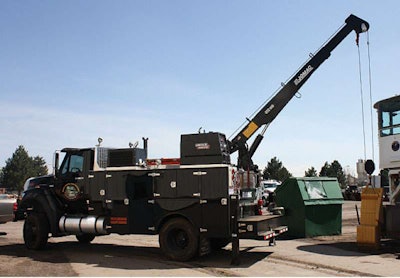 CUSTOM CRANE
The Jomac STC-140 has an aluminum 13-foot custom body, 80,000 foot-pound crane and grease pumps. It also features a wireless remote control, Lincoln 305G welder and Boss 60-cfm rotary screw compressor. A 375-degree rotation comes standard on the STC-140-2H, 3M and 3H models.
Visit EquipmentWorld.com/info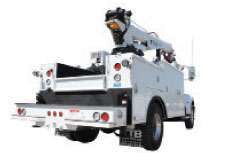 LUBE CONVERSION
The Caseco Master Mechanic Series Model MM366LC is a 14-foot, heavy-duty crane body with 360-degree exterior lighting. It has a shelving system, drawer units and bolt bins for storage. The hose reels, evac pump and a used filter/drip pan are housed in the first compartment on either side of the body with the tanks mounted in the cargo area behind the first compartment. The MM366LC also has a lube conversion system, internal hidden hinges, ribbed inner door/floor panels and three-point stainless steel door handles.
Visit EquipmentWorld.com/info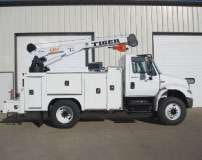 STORAGE SPACE
Service Trucks International's Eagle Pro II 2452 features 24-inch-deep by 52-inch-high cabinets that are mounted low. It also has a 22-inch workbench, 3/8-inch-thick work surface with 3-inch clamping lip, vise mount and full through storage. The 2452 is available in 11-, 13- or 14-foot bed lengths in standard or custom cabinet configurations.
Visit EquipmentWorld.com/info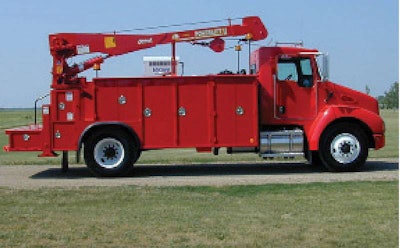 UPDATED TOWER
Teamco's commercial-grade mechanics truck has electric locks, 10-gallon galvaneal steel, concealed hinges and pressurized compartments. The crane ranges in size from 6,000 to 14,000 pounds. The truck also has LED lights and a redesigned crane tower.
Visit EquipmentWorld.com/info
Truck Accessories
REDUCE IDLE
Released at the NTEA Work Truck Show, VMAC's Raptair60 stand-alone diesel drive air compressor system turns itself on and off in response to air tool demand. The system weighs 450 pounds and is 18 inches wide by 34 1/2 inches long by 28 inches high. It delivers 60 cfm at 100 psi.
Visit EquipmentWorld.com/info
ABSORBS ENERGY
Iowa Mold Tooling's Dominator mechanics trucks have energy-absorbing boom stow to protect the body compartments and high-intensity LED compartment lighting. The telescopic cranes – 7500, 8600, 9500, 10000, 12000 and 14000 – have model numbers corresponding to their maximum capacity. The cranes reach 30 feet and feature a Penta Boom design. A stabilizer, mounted at the right front, extends out and down.
Visit EquipmentWorld.com/info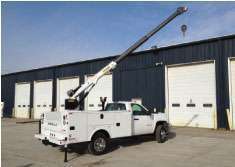 WIRELESS CONTROL
The Omaha Standard Palfinger PSC 3216 service crane reaches 16 feet with its self-centering hexagonal booms. Components include SAE hoses with JIC fittings, standard wireless remote control and a stowing hook. It lifts 12,500 foot-pounds at 0 degrees and 14,560 foot-pounds at 26 degrees. A boom tip hook and two internal-powered extensions are optional.
Visit EquipmentWorld.com/info
Truck Accessories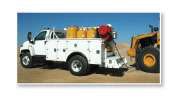 FILL UP
Exchange fluid in the field with Sage Oil Vac Lube Equipment's products for field service trucks. Lube skids and lube trailers are removable and available in multiple configurations. LubeBuilder equipment is mounted permanently in service beds or vans and has tank sizes for fluid top-offs and complete fluid exchanges.
Visit EquipmentWorld.com/info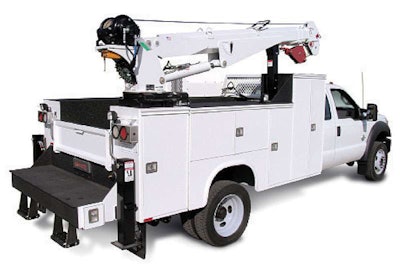 TRANSFERS LIFT
The Knapheide Manufacturing KMT1-11 mechanics truck has an 11-foot crane body with a torque-isolator crane support system that transfers lift into the full length torsion box subframe, not the side compartments. The KMT1-11 features a reinforced rear vertical curb side compartment, stainless-steel T-handle twist latches, master locking system and hydraulic compressor with roller fairlead.
Visit EquipmentWorld.com/info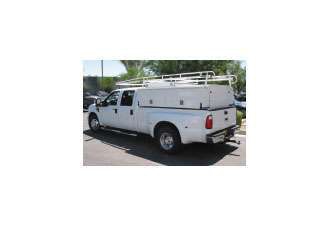 REMOVABLE BODY
Fleetwest's Load 'N' Go is a "no-holes drilled installation" steel transferable service body with full-length side boxes and a 1,000-pound capacity slide out drawer. Slide the top half open and lock it in place or fully remove the top for an open-bed configuration. It has built-in forklift tunnels and lifting jack receptacles.
Visit EquipmentWorld.com/info
Truck Accessories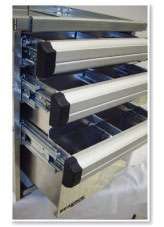 STORE SAFELY
Maximize storage options with Maintainer's DuaLock all-aluminum drawer cabinets, which have a 500-pound static and 300-pound mobile capacity. The DuaLock locks the drawer assembly in both the open and closed positions, and the cabinet's natural oxide coating blocks further oxidation.
Visit EquipmentWorld.com/info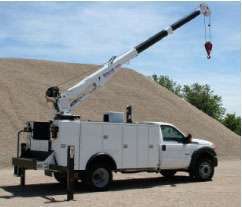 HEXAGONAL BOOM
Stellar Industries' Models 7621 and 7628 telescopic service cranes lift 7,500 pounds at 5 feet and are equipped with the Stellar CDT system. The 44,000 foot-pound cranes have a 21- (7621) and 28 1/2-foot (7628) reach. They feature a hexagonal boom design and use a planetary winch system with a hydraulic/ mechanical brake system that allows for a 60-foot-per-minute winch speed.
Visit EquipmentWorld.com/info